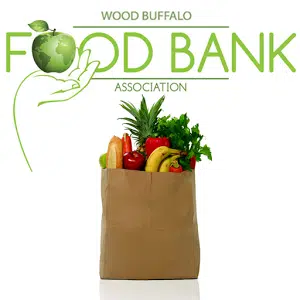 The Wood Buffalo Food Bank held its annual holiday Food Drive over the weekend ensuring no one in the region goes hungry.
The 26th Anniversary Syncrude Food Drive took place at different locations across the RMWB starting on Thursday with the Corporate Challenge.
Through the weekend, 450 volunteers helped get food to those who need it – raising a grand total of $276,827.82 and 75, 836 pounds of food.
That number was just shy of their goal of 350 thousand dollars and 80 thousand pounds of food despite a decrease of almost 200 volunteers from 2017.
Executive Director for the Food Bank Dan Edwards says they decided to lower expectations this year because of all the community has been through in recent years.
"We knew that the numbers this year would be lower than last, as everyone is still feeling the effects of the economic decline as well as the event of 2016," Edwards said. "Our only concern is the demand remains high and we see a challenging year ahead to keep up. However, Fort McMurray surprised us yet again, and even with so many going through tough times, we saw so much giving."
Food Bank Communications and Development Manager Anna Noble says they couldn't have hoped for such a successful drive were it not for those volunteers.
"We want to give a special shout-out to all those volunteers who helped out this past weekend, especially those who took on double shifts to fill empty stores. We realize our volunteer base in the community is exhausted and we appreciate those who came forward and gave their time when we were in urgent need. We couldn't have run this food drive without them."
Last year, the Food Bank received $342,224 and 76,935 pounds of food while in 2016, following the wildfire, the drive raised $553,290 and over 80,000 pounds of food.