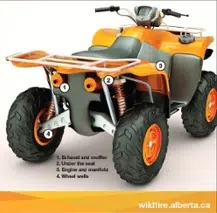 Wood Buffalo RCMP are reminding you where you can and can't use off-highway-vehicles.
In Fort McMurray, there are only three designated off-loading areas for OHV's: the Snye, Abasand, and Waterways. These locations offer trails for riders to enjoy, while keeping the machines away from the urban service area.
OHV's aren't allowed to be used on any other public space in Fort McMurray.
The Mounties are also reminding motorists that Firebreak areas aren't their personal racetrack, just because they've been cleared of brush and trees.
People caught using an OHV in a FireSmart area could be fined.
Meanwhile, the police are offering a few tips for riders including wearing a certified helmet, carrying an emergency kit which has a cell phone, charger, food, water, and first aid supplies, and keep your vehicle well-maintained.