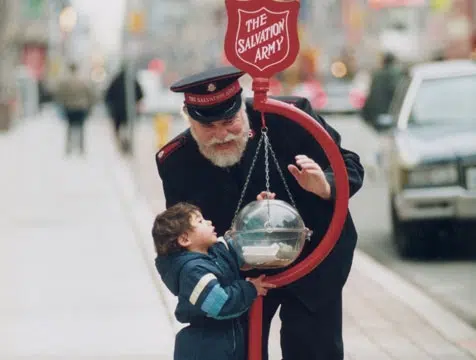 The Salvation Army's annual Christmas Kettle Campaign is once again up and running.
It kicked off on Saturday at Peter Pond Mall with Mayor Don Scott making the first donation of the year.
This year they're upping their goal to $200,000. This was the around the amount they were able to raise in 2017.
"All Kettle donations stay in this community to support our year-round programs to restore hope, and to help, any person who needs us," said Major Stephen Hibbs, in a release.
These programs include emergency shelter, Christmas assistance, food programs, counselling, job search assistance, and more.
The Salvation Army notes the familiar red kettles will be at seven locations with a new twist. For the first time ever, they will be accepting debit and credit card donations, along with the usual cash offers.
People can also donate online by visiting fillthekettle.com.
Meanwhile, the organization is putting a call out for volunteers. You would be asked to help out through two hour shifts. Interested people can sign up by calling 587-646-0981.