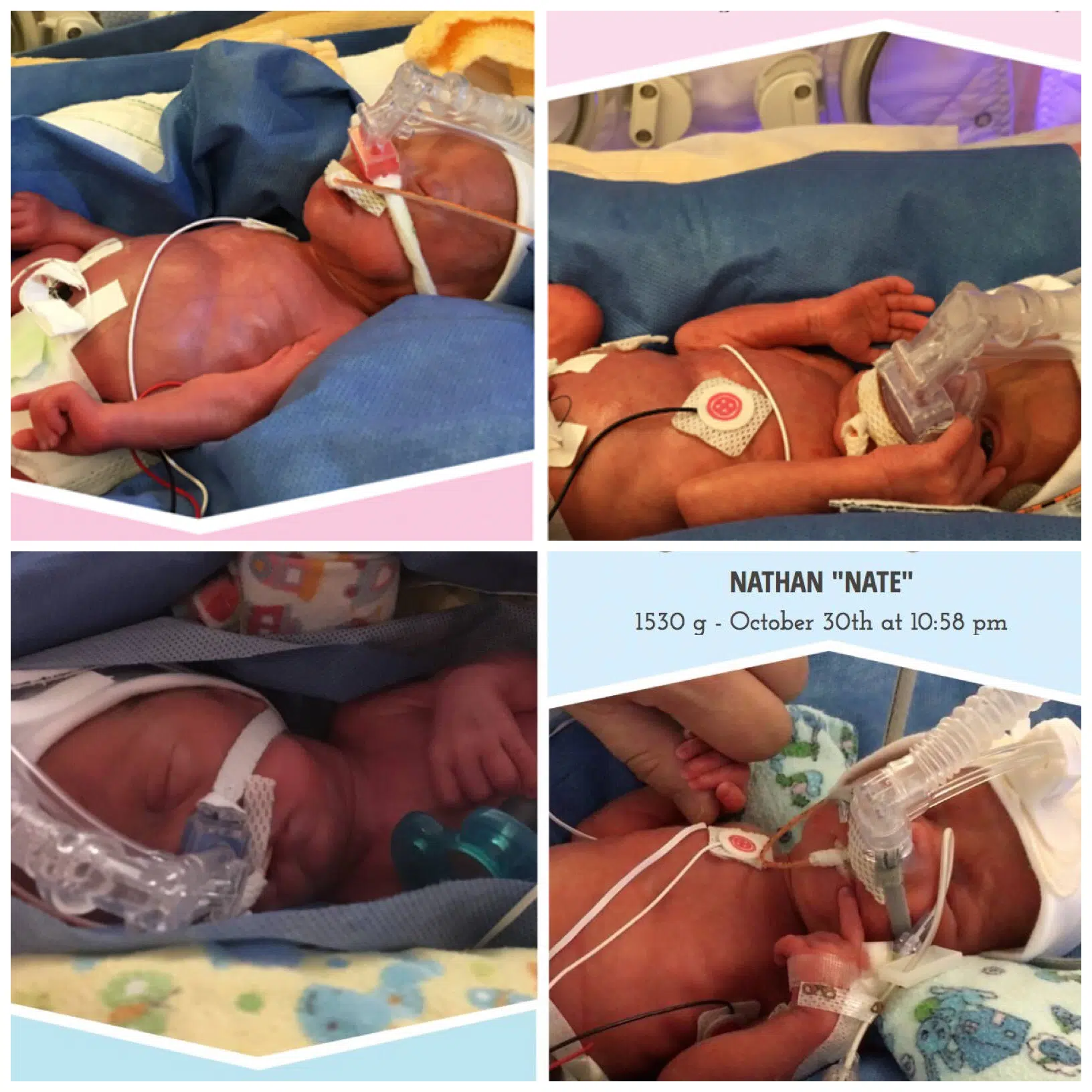 One local family is growing faster then they would have ever expected.
Annie and Darrell Simms of Fort McMurray welcomed quadruplets on October 30 – two boys and two girls, Heidi, Julia, Carter, and Nate. 
The family now has seven members as they have another daughter named Payton.
Annie's sister-in-law Meaghan Sullivan tells Mix News the family feels quite lucky for this nice surprise.
"It's very rare, one in 800,000 chance that this happens – so we've been joking, Darrell's been buying lottery tickets since he was 20 and never has he won."
According to Alberta Health Services, there have never been quadruplets born at the Northern Lights Regional Health Centre in Fort McMurray.
The Simms extended family has started a Facebook page called the 'YMMQuadruplets' writing about the family's story and highlighting the moment they were given the news.
"As the ultrasound tech continued on, Annie and I looked at each other in shock after seeing the four little babies on the screen… tears welling up in our eyes, we both burst out laughing and hugged each other."
The quadruplets were born premature and are expected to stay in a Calgary-area hospital until sometime in January.
Annie's sister Jackie says the family will be ready for any challenge that arises.
"I don't know two people that could handle this more than Annie and Darrell, they are so grounded and taking things day-by-day."
The happy additions also come with some minor bumps, specifically financially.
A GoFundMe page has been set to help the Simms cover some of the costs of having four newborns.
"Our goal is to put the opportunity out there for the community to celebrate with us, come along for the journey, and show this family how Fort McMurray can surround them with love and community support. A lot of folks have been asking how they can help, offering gifts, and this is our way of making sense of it all while we figure things out," added Meaghan.
Among the needs include a new vehicle that allows five car seats, in-home support, and a lot of baby products.
The fundraising goal is set at $50,000.