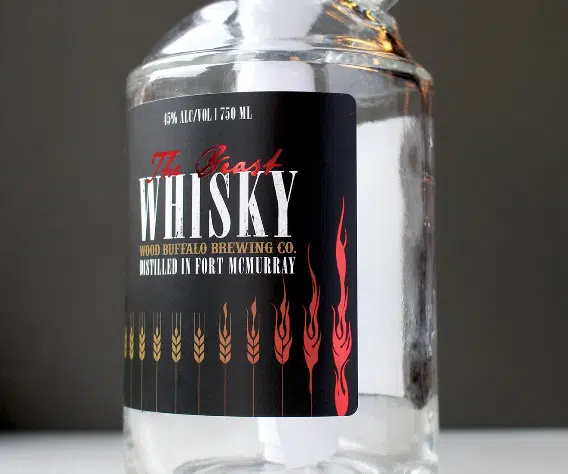 Another set of 'Beast Whiskey' was auctioned off to raise money for charity.
Many gathered at the Wood Buffalo Brewing Company last Friday to have a chance to buy the one-of-a-kind liquor which had its malt left outside during the evacuation, absorbing the smoke from the fire.
Eight bottles were auctioned off raising over $22,000 – down from last year where it raised around $47,000.
Fort McMurray Firefighters Association Charity Committee Scott Germain tells Mix News the number is much lower, however, it doesn't mean they're disappointed with the amount.
"It's really hard to predict at auctions, there could be two people who get in a bidding war and that could jack up the price, but it's all for charity so any amount of money that we make, we're just happy we were able to raise it."
The money will be split between five organizations –  Waypoints, Wood Buffalo Food Bank, Fort McMurray Boys and Girls Club, Centre of Hope and the Fort McMurray SPCA.
The three auctions have now raised over $100,000 for the social profits.
Germain says it's hard to believe how far everything has come.
"The fact that people are bidding $100,000 over 30 bottles, it's absolutely crazy for us and we're really quite happy."
The plan moving forward is to hold at least another auction.
Germain adds the whisky is expected to be ready by next year.