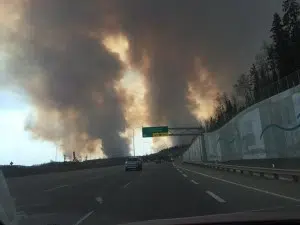 A big chunk of municipal funds has been used on the response and recovery from the Horse River wildfire.
Wood Buffalo council was presented the region's third quarter financial performance update on Tuesday which also outlined the funds used since the blaze started.
Since May 2016, the municipality has allocated $203.4 million – the majority of which has been reimbursed.
Mayor Don Scott tells Mix News it's a price that needed to be paid.
"There's a lot of challenges out there and I think the high cost is just reflective of all that we've been through."
The money has been used in multiple areas including for the evacuation, paying emergency crews, and all the projects being undertaken to help the community recover.
Scott says limiting the spending just can't be done.
"We've spent a lot of money and people have gone through a lot and there's still a distance to go – for me, I just want to see it completed as soon as we can."
The total amount of money spent on the response and recovery is much higher.
As of May, the Canadian Red Cross has spent around $291 million in the community.
Back in 2017, they announced they were sending another $10 million to the municipality to help with wildfire initiatives. To date, Red Cross has given $5 million.
The federal government sent over $300 million to help with the response efforts.
The province has also allocated millions of dollars for different projects such as $10.5 million for FireSmart initiatives – $7 million of which has already been transferred.
"We're certainly grateful for the other levels of government and for the Red Cross and all those who've contributed, but there's a lot more work still to be done, even now," added Scott.
Meanwhile, the provincial government has also reimbursed $148.7 million of the municipality's costs while $29.6 million has been paid by the region's insurance provider.