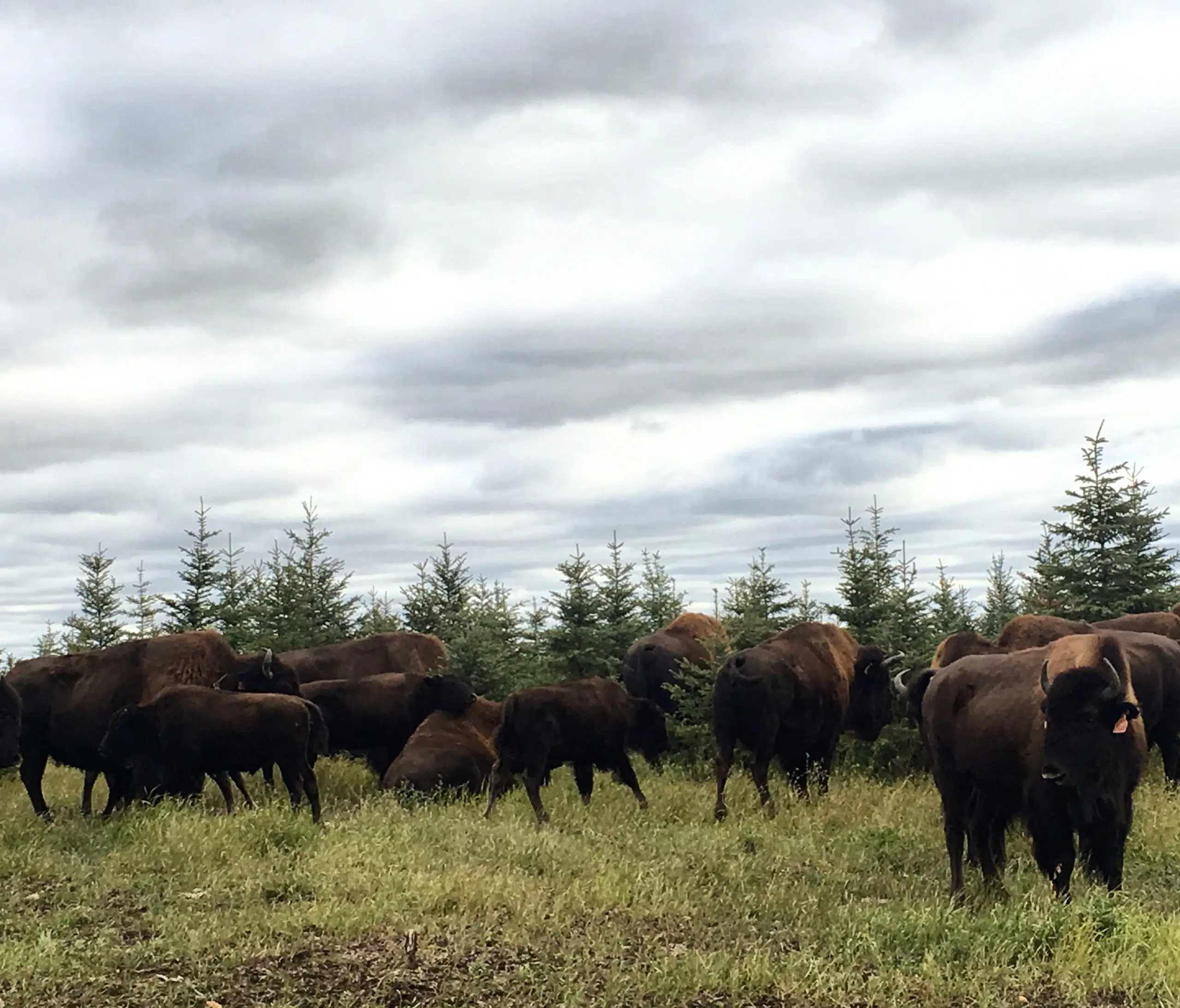 The Wood Bison herd roaming a once open pit mine at Syncrude is being introduced to a different type of reclaimed land.
For 25 years, the herd of roughly 300 has been grazing on grasslands at Mildred Lake.
Earlier this year, Syncrude opened up even more pasture – this one mixed with grass, shrubs, and trees.
Production manager for Tailings and Lease Development Ken Bell says they wanted to bring a new aspect of land reclamation to the animals.
"See how the herd does in that new pasture, see how the land responds, the new trees and shrubs to the bison being in there, see how the bison respond to that new part of their environment and make a decision after that."
The Bison Creek Ranch, which is a partnership with the Fort McKay First Nation, stemmed from the need to research how reclaimed land at Syncrude would stand up to large mammals.
Originally, the idea was to bring in cattle ranching and raise beef on the land, however, after consultation with the First Nation, it was decided to bring in Wood Bison from Elk Island National Park as they are native to the region.
A number of studies conducted over the years have shown the bison are having a very positive impact on the land, as well as on other species.
"From the number of birds that we see in and around the bison pasture, to the number of invertebrates that show up because of how the bison changed the land. That's actually really interesting to see how the bison are playing a role in bringing the land back to what it would have been like prior to the disturbance," added Bell.
Job Evolves Into Lifestyle For Ranch Manager
There is one man who has been with the Wood Bison over the last 25 years.
Ranch manager Brad Ramstead, who works for the Fort McKay Group of Companies, started out on a six-month program – decades later he's helped grow the herd and maintain their high-quality bloodlines, gaining awards and accolades along the way.
"The staff that works for me always have a sense of pride to look at stuff to make the animals do come first and to make sure they're looked after," said Ramstead.
The bison aren't just known in our region – they have become highly respected in the industry. The DNA and genetics of these animals are tested so farmers know when they buy a Syncrude bison at auction they're getting an original from the Elk Island stock.
"It gives you a sense of pride, for the fact too, we've done this work here, we now have a pure Wood Bison herd. We're one of the only public endeavors in North America that has a truly pure registered Wood herd."
For Ramstead working with the herd is more than just a job – it's a passion and lifestyle.