The search continues for a 46-year-old Janvier woman who has been missing since April.
A group of volunteers are meeting Wednesday and Thursday at 10 a.m. the Janvier Arbour in an effort to find any trace of Betty Anne Deltess.
Deltess, a mother of five, is described as Indigenous, 5'5", 150 pounds with brown eyes.
Deltess's cousin Bobby Janvier tells Mix News with winter on the horizon, this will likely be the last search before the snow falls.
"We don't know when snow is coming, and we are just running out of time and space of where he has been looking. We don't want to keep going over the same place over and over. We only have so many people that help out."
Janvier adds that the more people that are willing to help, the easier the search for his missing cousin becomes.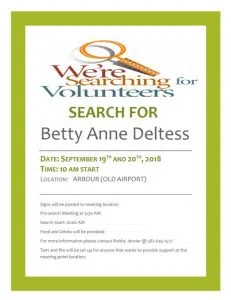 He notes as it stands, the likelihood of finding Deltess is getting slimmer by the day.
"We're looking for a needle in a haystack. We don't have a clue of the exact day she went missing or where, or who was the last person to see her. It all boils down to we're basically starting from scratch."
Anyone with information on her whereabouts is asked to contact Wood Buffalo RCMP.