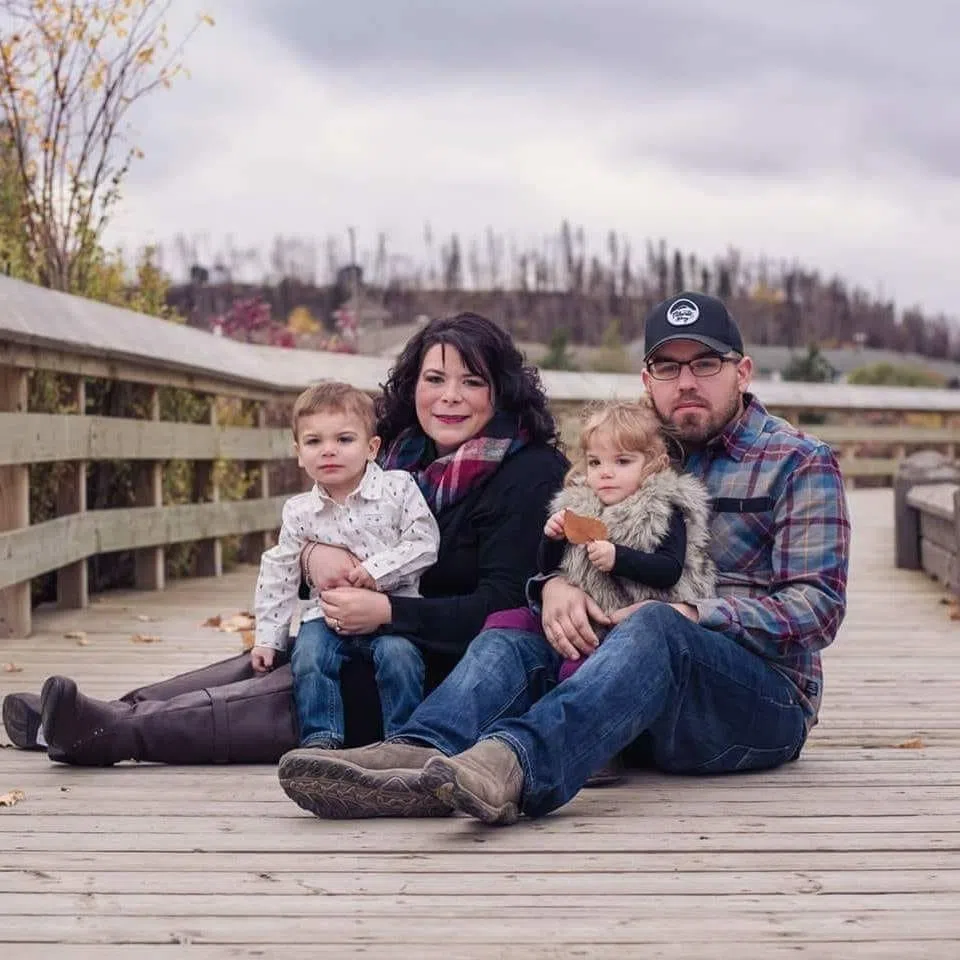 One family's housing situation is continuing to remain a nightmare.
Ashley and Ryan Glover have been dealing with mold and structural damage in their Eagle Ridge home for a couple of years now.
She tells Mix News the construction company that worked on the house, Cherrywood Homes, is responsible for the grief that's been caused over that span of time.
Ashley says they have no choice but to foreclose their home.
"We're done," Glover said. "We just can't keep trying to fix it and trying to fight with them to get them to fix the problems. The only things they've fixed is the tall wall and a patio door they replaced for us. That was basically it."
The family hasn't lived in the house since June 2017. They're currently sharing a one-room apartment with her sister.
An Edmonton Physician also believes their kids, Wyatt and Madelyn, were getting sick due to the house's conditions.
Last year, they found mold in the spare room and under their carpets. Ashley notes they recently found more mold in the master bedroom.
"We thought we were going to be able to go home. We were getting ready until we found more mold, it's probably throughout the entire house."
Right now, the family just wants to have a normal life again.
"I just want to be able to get up in the morning and feed my kids breakfast at our own table and tuck them to bed at night. We don't have to keep paying the mortgage and try and save this house that's like a sinking ship."
In a statement, Cherrywood says they helped the Glovers to the best of their ability – even going beyond addressing issues for which they felt they were not responsible.
"Cherrywood has attempted to assist the Glovers, as it would any homeowner, with issues arising with the ownership of their home. Ultimately, an agreement could not be reached on those items for which Cherrywood was responsible, and those for which the Glovers were responsible. As a result, the Alberta New Home Warranty, and other third-party experts were engaged to determine which items were builder related and therefore the responsibility of Cherrywood.
All deficiencies and other issues identified as being the responsibility of Cherrywood were completed by Cherrywood. One exception exists, the installation of which was cancelled at the last minute at the Glovers' request. In fact, and despite the continued use of negative social media by the Glovers, Cherrywood has repeatedly gone beyond its contractual requirements to assist in addressing additional issues for which it was not responsible.
It is clear that one of the largest factors in respect of the house is the lack of humidity control. This is not a builder issue; rather, this is a homeowner maintenance issue, of which the Glovers are fully aware. While Cherrywood is sympathetic to the difficulties encountered by the Glovers, it cannot be held responsible for the consequences of the failure to maintain the home over the last 4 years."
However, to the Glover family, that just doesn't cut it.
"It's not just us. There're many other families in this town going through the exact same thing. The builders are screwing us over because they can just do what they want because they are so big. And us as homeowners, we can't do anything because we are just little people trying to fight giants."
Ashley says they are continuing to look at taking legal action against Cherrywood Homes.
-With files from Brandon Piper