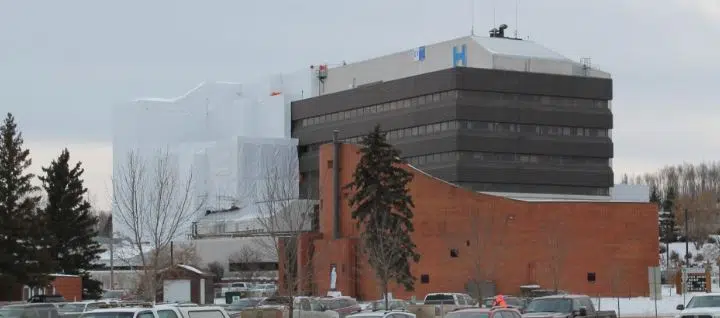 The weekend's rainfall was one for the record books.
Early Saturday afternoon, a storm rolled through the region – bringing with it heavy rains which forced Wood Buffalo RCMP to shut down a number of roads in Gregoire for a few hours.
According to Environment Canada, we had 55 mm of precipitation – surpassing the record high of 22.1 mm set back in 1970.
The rainfall also forced the Northern Lights Regional Health Centre to close off some areas in their building.
The hospital started experiencing flooding in their emergency department around 1 p.m. on Saturday forcing crews to work out of the Ambulatory Care area.
Senior Operating Officer Murray Crawford tells Mix News there was a very minimal impact on patient care.
"You never know if people drive up and then turn around but we did see 147 patients over that period of time and certainly our temporary waiting room was definitely full."
Crawford says their first rule in a situation like this is to take over the Ambulatory wing.
"The emergency room is something we have to keep open as a regional trauma centre and providing emergency services to the region."
Their kitchen, some offices on the fifth floor, and the ceiling in the Operating Room hallway were also impacted by water. AHS notes no water every reached the OR.
The emergency room was fully operational in their usual location by 2 p.m. on Sunday.
The offices and OR hallway are currently in need of repairs.
"We didn't lose many supplies and it doesn't appear that we lost any equipment through water damage, so we're very lucky and it good news that the cost should be minimal."
In an investigation is being done to find the exact locations for the water leakage.
AHS adds they're currently working on finding a solution to make sure a situation like this never happens again.
"We want to make sure we have proper drainage on the roof – so if there is a large rainfall like that, it properly drains. We also want to make sure our drainage system through the sewer system is going out the correct ways."
The current damage to the NLRHC is still unknown.
Basement Floodings
The rainfall wasn't just causing troubles for the hospital.
The municipality says they received seven calls from residents stating they had water leaking into their basements.
They add the PULSE Line received 41 calls specifically about the downpour.
To make sure the water is drained on the streets before basement flooding occurs, the municipality follows through on a number of protocols.
This includes using existing storm ponds, utilizing a series of pumps to reduce water levels, and removing manholes in some areas to reduce water pressure.
Environment Canada Predicts A Nicer Weekend Ahead
Saturday's record rainfall isn't wholly indicative of how weather this month has been.
That's according to Environment Canada Meteorologist Dan Kulak who says the recent rainfall was caused by a weather system coming from British Columbia.
He tells Mix News despite the torrential downpour and recent cool temperatures – it's actually been a warmer than usual July.
"The daytime highs and the overnight lows put together has been 18 degrees and that is actually relatively warm, and we've had a lot of days in the month with temperatures well into the 20s. So, it might seem cool on some days but overall, I feel it's been a relatively mild month."
The weather agency notes they are expecting a much more pleasant forecast for the weekend ahead with temperatures back in the mid-20s.
Kulak says the storm system moved east from the B.C. Rocky Mountains – resulting in the abundance of showers.
"As that storm system lingered slowly into Saskatchewan, a lot of rain showed up across the province. Anywhere from the elbow west of Hinton all the way through to Fort McMurray and all over northeast Alberta. Really just a large complex weather system moving through that area over the last few days."
Kulak adds after Tuesday – the weather is looking fairly clear for the remainder of the week from Wednesday on.
— With files from Brandon Piper.