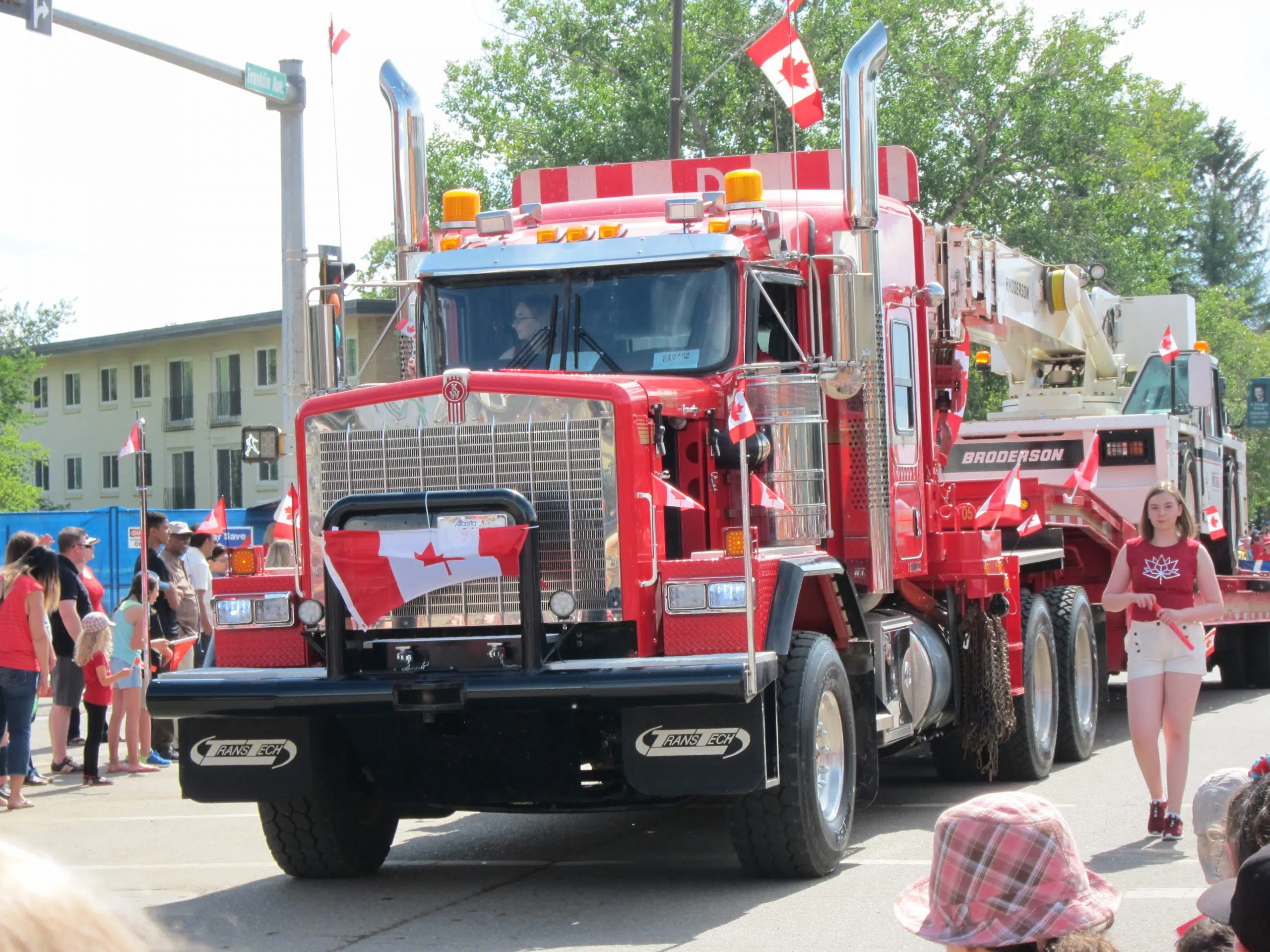 There are tons of festivities in the RMWB over the holiday long weekend in celebration of the country's 151st birthday.
The Wood Buffalo Multicultural Association is holding its big pancake breakfast at MacDonald Island Park from 8-10 a.m.
Then you can stroll downtown – where the Canada Day Parade will kick off at the intersection of Franklin Avenue and Riedel Street starting at 10:30 a.m.
From 10:30-11:30 a.m., the parade will run north along Franklin from Riedel Street to Morrison Street.
As a result, multiple road closures will be in effect. Clearwater Drive from Riedel to Queen Street will be closed from 7:30-11 a.m. for float staging. Riedel Street will be closed from 10-11:30 a.m. from Clearwater Drive to Franklin Avenue. Franklin will be shut down from 10 a.m.-12 p.m. from Riedel Street to Morrison Street. Morrison will be closed from 11 a.m.-12:30 p.m. from Franklin Avenue to Fraser Avenue for float de-staging as will Fraser Avenue from Morrison to Hardin Street.
In addition to street parking on the off-parade roads, municipal parking lots will be used publicly at the Hardin Street Building and MacDonald Avenue.
The RMWB is also encouraging you to learn more about the history of the region by checking out Heritage Village and Shipyard, where admission will be free all day long.
For those looking for a more laid-back activity on Canada Day, the Royal Canadian Legion Branch 165 is celebrating the grand opening of its patio with a barbeque.
Communications Officer Bill Rockwell tells Mix News they expect a fairly modest turnout.
"We've got rock painting, temporary tattoos, fishing for ducks – all sorts of activities for the kids to play. Personally, I'd like to see probably 40-50 people come down and have a look around, that would be amazing."
As for the big celebrations, starting at noon, there will be an abundance of activity back at MacDonald Island Park being put on by the municipality and the Regional Recreation Corporation.
For the kids, there will be bouncy castles, face painting, crafts and public swimming at the Syncrude Aquatic Centre. Family entertainment will be provided on the Family Main Stage from 1-3 p.m. and there will be a very special guest visiting from 2-4 p.m. in the parking lot near the Family Main Stage – where kids have a chance to meet and greet with Chase and Skye of Paw Patrol.
For the parents, Beer gardens and lawn games will begin at 5:00 p.m. in the parking lot adjacent to the Fox Den Lounge, with music on the main stage beginning at 5 p.m.
The Fort McMurray Giants will also be in action later in the evening at Shell Place when they host the Melville Millionaires with first pitch after 6 p.m.
Then at 8:30 p.m., local bands and artists will keep the music flowing until 11:59 p.m. when the Canada Day fireworks display lights up the night sky.
What's Open/Closed:
Peter Pond Mall will be open all weekend. On Sunday, Canada Day, you can access the mall from 11:00 a.m. to 5:00 p.m and on Monday from 10 a.m. to 7 p.m.
Keyano College Sports & Wellness Centre is open on Saturday from 8 a.m.-10 p.m. on Sunday, July 1 from 8 a.m.-8 p.m., and Monday, July 2 from 8 a.m.- 10 p.m.
The Suncor Community Leisure Centre at MacDonald Island Park will be operating on holiday hours on Monday. It will be open from 7:00 a.m. – 10: 00 p.m. All other holiday hours for the Park can be found here.
The movie theatre will be open all weekend.
Transit:
Transit Services is extending and adding service on Canada Day.
Service is being extended on Routes 11 (Airport/TaigaNova), Route 15 in Timberlea and Route 16 in Thickwood.
Additional service on Route 99 from MacDonald Island will run every 15 minutes from 7:30 a.m. until 1:30 a.m., July 2.
The RMWB notes service from Moose Island to Fort Smith will be suspended on Saturday and will start again the following Saturday.