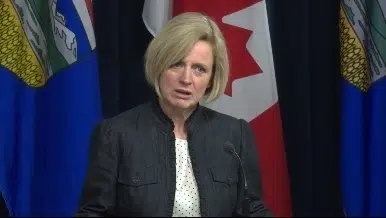 Premier Rachel Notley is defending her decision to skip the western premiers' meeting in the Northwest Territories.
On Tuesday, the Premier spoke to reporters regarding the decision, citing that her focus is to stay in Alberta to try and ensure they meet Kinder Morgan's Trans Mountain Pipeline May 31 deadline.
She will also attend Bill 12 briefings. The legislation introduced last month and would allow more control over the exporting of oil and gas.
Notley says when it comes to interprovincial relations – it's not business as usual.
"Not even close, and that is why I've chosen not to attend the meeting. My time is better spent here. Working with the Federal government, working with Kinder Morgan and making sure we get across the finish line before the May 31 deadline."
British Columbia's government also announced Tuesday they filed a statement of claim in Alberta's Court Queen's Bench – to challenge the recently introduced legislation.
Notley says securing the deal for the deadline is more important than calling out the B.C. Premier.
"If we were a long way away from the pipeline decision, maybe spending 45 minutes chastising John Horgan in front of the other premiers would be a good use of my time but quite honestly, we're very close to some very important decisions that need to be made, and so, I need to be here."
The Premier says this decision is meant to put pressure on B.C.'s government who've been delaying construction on the federally approved pipeline.
Notley notes while she will not attend the meeting, Deputy Premier and Health Minister Sarah Hoffman will be there to discuss pharma care.
"If we want to make sure every Canadian can get the medication they need, we need to be able to pay for it. So, while they are at the meeting discussing how to spend that kind of money – I will be here in Alberta, figuring out how we can earn that money."
Notley's focus over the next eight days will be ensuring a deal gets done with Kinder Morgan.