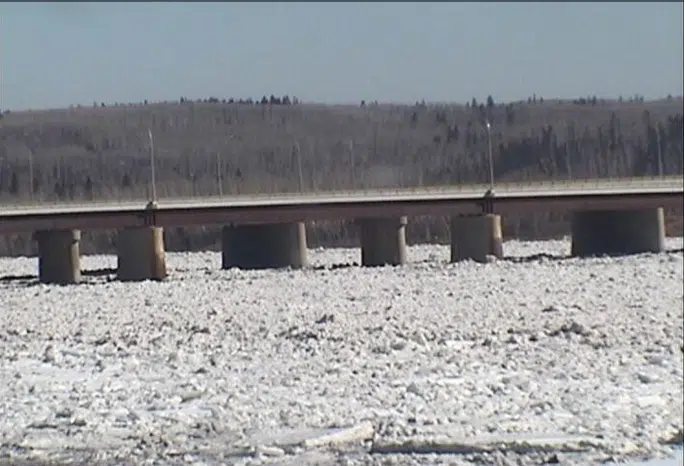 It won't be long before we start to hear the ice on the Athabasca and Clearwater Rivers start to crack and break.
To make sure we're prepared for any risk of flooding, Regional Emergency Services is kicking off its spring river breakup campaign.
The idea is to educate residents about the dangers associated with the spring thaw along the rivers.
Assistant Deputy Chief of Emergency Management Chris Graham tells Mix News it's important to always be prepared in the event of flooding or any emergency.
"When we say be prepared, understanding well what routes are you going to take, what's your backup routes? If this route isn't open, what about your other routes? What are you going to carry? Are you going to carry just your purse, wallet, backpack or do you need to load your vehicle?"
River breakup, on average, is declared on April 19 and is done so when there's no longer a threat of ice jams in the region.
Graham says as it stands right now, forecasters are predicting an average risk of flooding this spring, but notes just like the weather forecast, the flood risk is just a prediction – and depends on a variety of factors.
"So if we go from very negative temperatures to very high temperatures very quickly, well imagine all that snow melts right away, river breaks up, all that can be a sudden event there's a higher risk of flooding."
He adds RES staff have been working with provincial government and are regularly monitoring the situation.
If you want to watch the breakup, Graham recommends watching the camera online, as it can be exceptionally dangerous if you stand on the river bank.
"Watch from a safe distance, watch on the camera, don't go down to the shore. It can be very dangerous, not only the physical action of the ice coming out of the river, but the flooding aspect can surround you very quickly," said Graham. "Everyone goes to Syne Point because it's a really pleasant place to be, but during river breakup, it's actually quite dangerous, that's why we put barricades up."
He's also reminding people that the ice along the Athabasca River has been known to split up in random areas leading some to believe the breakup is done when exactly it's just starting.
LISTEN: On this edition of Fort McMurray Matters, Chris Graham, Assistant Deputy Chief of Emergency Management, discusses the upcoming River Breakup Season and what people should do to prepare for potential flooding #ymm #rmwb https://t.co/7CMnLp13fa

— MIX 103.7 News (@Mix1037FMNews) April 3, 2018