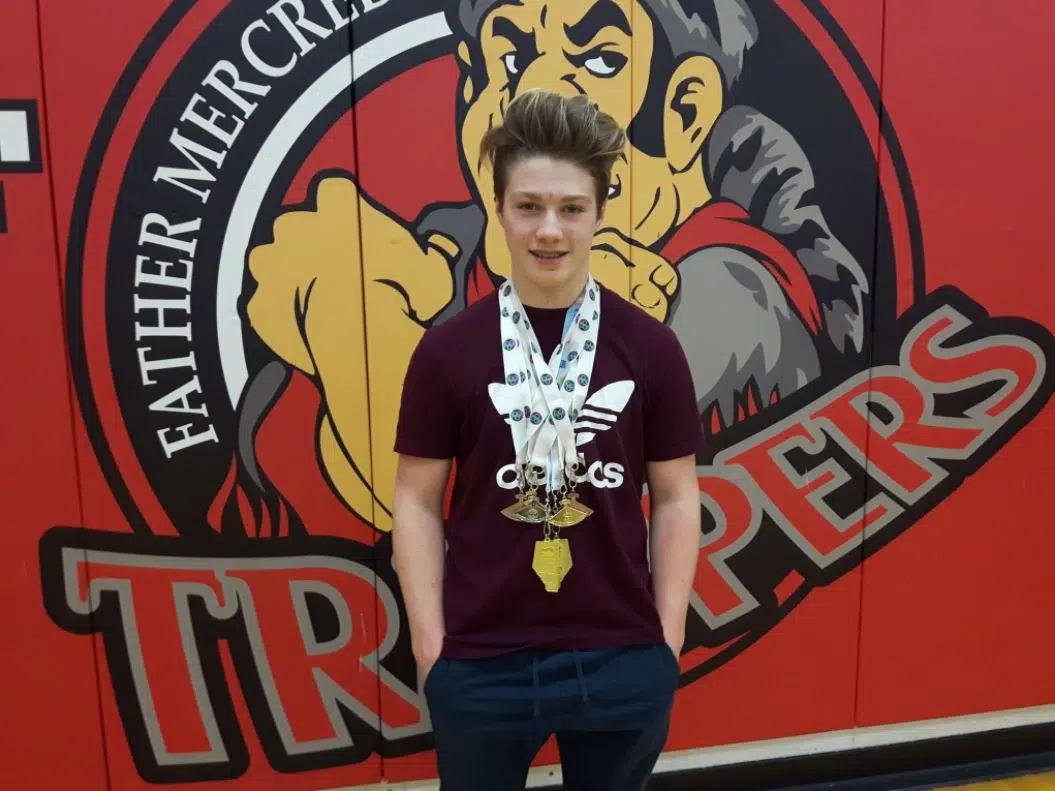 A Father Mercredi football player is showing he can shred more than just yardage.
Last week, Sterling McNeilly – who stars as a running back and wide receiver for the Trappers' junior squad – showed he could do it on the slopes as well – coming away with five medals in snowboarding at the 2018 Arctic Winter Games.
The eighth-grader had a week to remember, racking up two gold medals, one silver and two bronzes.
McNeilly tells Mix News he's hoping to accomplish great things through the sport.
"I used to ski, and I didn't really like that so, that's why I started snowboarding. I just really like it and it became natural to me. I would like to go far with it, I don't know how it's going to go, it depends on how my football season goes but I don't know. It could go far."
McNeilly says while the season is close to ending, he'll stay in shape through football over the summer, before hitting the hills again next year.
The performance in South Slave comes after winning two-gold medals for Zone 7 at the Alberta Winter Games last month.
The 14-year-old says he likes to model his snowboarding-style after Olympian Mark McMorris.
"He's hurt himself, broken bones and almost killed himself and he still snowboards. That's a lot to deal with. You break a bone and normally you don't feel like snowboarding for a while, but some guys break a bone and just want to go harder and do what they like."
Overall, team Alberta North came away with 133 medals – good for first place in the medal standings.
In a release, Minister of Culture and Tourism Ricardo Miranda applauded all the athletes from Alberta.
"We are all very proud of Team Alberta North's performance and I hope this experience will encourage many of them to continue their athletic pursuits, supported by Alberta's dedicated coaches and amazing communities."
Here is a rundown of how some of our other local athletes fared:
BADMINTON
Fort McMurray's Dhruv Patel won gold in singles junior male while Aaron Quan won the bronze medal.
The two also won gold in doubles and Patel won gold in mixed doubles as well.
Meanwhile, Kovi Altoveros, Dhanekka Rajakulendran were silver medalists in doubles juvenile female.
DENE GAMES
Raye-Lynn Richards took home gold in finger pull junior female.
While Jimmy Cardinal from Janvier won bronze in the junior male's event and he won gold in the snow snake event.
Reanna Whiteknife of Fort McMurray also earned a silver in the stick pull.
FIGURE SKATING
Kaiya MacDougall and Faith Crummy both had 4th place finishes in figure skating events.
GYMNASTICS
Grayson Reid won bronze in the vault junior female as well as silver in the floor exercise.
Savanna Pardy won silver in the balance beam as well as bronze in the all-round.
HOCKEY
Alberta north Bantom's picked up a silver medal.
Jordan Fitzpatrick, Brandon MacIntyre both of Fort McMurray were on the team.
The Artic Winter Games are an international sport festival bringing together athletes from Alaska, Greenland, Northern Alberta, Northwest Territories, Nunavik, Nunavut, Yukon, Yamal (Russia) and Sapmi (Northern Scandinavia).