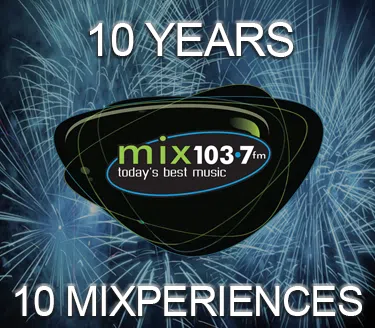 Mix 103.7 made its mark in Fort McMurray 10 years ago on January 15. Since then we've been playing today's best music into cars, businesses and households all throughout the community. We've been at all the events, fundraisers and grand openings. Memories have been made and many more are to come.
To celebrate 10 glorious years in this community, we're doing it RIGHT with 10 Mixperiences! We've got sweet a** trips, concerts, prizes and more for our listeners, our family, to win!
Mixperience 1 – Pink in Las Vegas, May 26
Mixperience 2 – Taylor Swift in Toronto, August 4
Mixperience 3 – Sam Smith in Edmonton, September 12
Mixperience 4 – Waterways House Boat Getaway, Sicamous BC
Mixperience 5 – Justin Timberlake in Edmonton, November 5
Mixperience 6 – Gwen Stefani in Las Vegas, March 2, 2019
Mixperience 7 – YMM Halloween Thriller VIP Party Bus Experience @ Syncrude Sport & Wellness Centre, October 27
Mixperience 8 – Announced September 17
Mixperience 9 – Announced October 22
Mixperience 10 – Announced November 26
Keep your dials, your apps, your Google Home device and your Alexa's locked on Mix 103.7 and ensure you're part of the action!