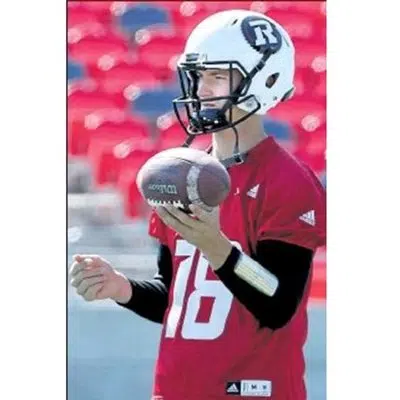 A former Fort McMurray Monarchs quarterback is trying his hand at acting.
Many local football fans may remember Will Arndt the signal caller who helped the team capture their first National Championship against the Greater Toronto Area All-Stars back in 2016. Nowadays you can find him on the Ottawa Redblacks roster.
Arndt will be starring in an HBO film about the Penn State Child Sex Abuse Scandal – named 'Paterno.' The film focuses around Joe Paterno, played by Al Pacino, who was the head coach of the school football team and the storyline with Jerry Sandusky who was found guilty of sexually abusing young children.
Ardnt tells Mix News he will be playing Matt McGloin in the film, a former NFL quarterback and Penn State's play-caller during the scandal.
"I'm involved in a few scenes that were significant to the plot, I have a line during the Illinois game of which I'm talking to the offensive coordinator and they send me out onto the film."
Here is a trailer:
Al Pacino is Joe Paterno in #PaternoHBO.
Coming this Spring. pic.twitter.com/TLoL8g4PvJ

— HBO (@HBO) January 19, 2018
Arndt notes the film has been in the works for years, just getting the go-ahead to move forward with the film. Arndt was recruited by a sports company looking for quarterbacks who looked the part for the role, eventually getting the spot after an audition.
"I was happy to be a part of it, great experience, and it was cool to meet people like Al Pacino and some of the other actors that were on set."
The cast does include some big names from Pacino, Kathy Baker, and Riley Keough – granddaughter of Elvis Presley.
Despite being a CFL quarterback, Arndt believed acting was something he thought wasn't an impossible goal.
"I like to think that I'm a diverse talent and it's a pretty cool thing that happened to me in the last year, from playing football for the Fort McMurray Monarchs, signed with the Ottawa Redblacks in the summer to being a part of an HBO film.
As for the film itself, Arndt says HBO is keeping the direction of the 'controversial' film very tight-lipped even from the actors.
"It certainly is a controversial serious of events that happened but it's going to make for s very enticing film and I know for myself I'm very curious to see how they display it and how it will all play out."
The show is set to premiere on HBO during the Spring.
Al Pacino is Joe Paterno in #PaternoHBO. Premieres Spring 2018 on #HBO. pic.twitter.com/AhyjMgmoTC

— HBO (@HBO) January 11, 2018