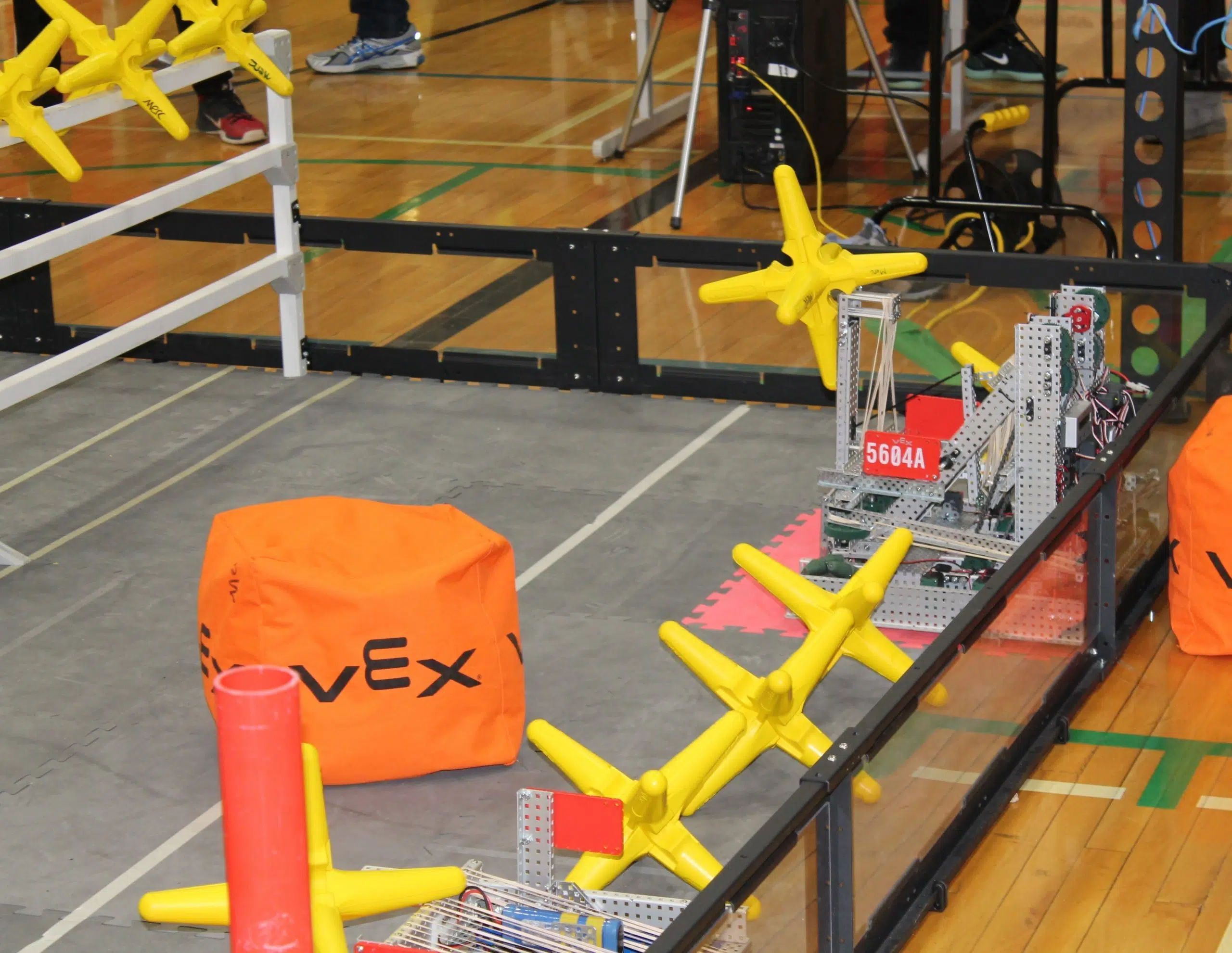 Father Mercredi will be well represented at the upcoming provincial robotics championship in Edmonton.
All four VEX teams will be competing for a chance to play at the World Championships being held in Kentucky.
Each team has been designing their own robot since the beginning of the school year, preparing for an upcoming game which will determine if their strategy can help them land a spot at the Worlds.
Robotics Teacher Tom MacIsaac tells Mix News he has high hopes for each team.
"It's a possible thing, the level of competitiveness at these competitions have increased exponentially in the past couple of years. I've been doing this for a long time and schools, students, mentors are really stepping up."
All the robots are rather small, being able to fit inside a 18×18 cube.
Starting off the competition, each team will have to program their robot to complete anything by itself for at least 12 seconds. After that, the teams will control their robots and compete in a game where they must move cones onto a moving base and carry it into a "scoring zone."
"For the match, it's two robots versus two robots, an alliance of two will compete against the other alliance," added MacIsaac. "The students have to come up with a strategy, everything is worth points, so they come up with a strategy to score the most points."
After each robot plays every other one, the judges will choose the eight finalists who will once again choose an alliance for a chance to earn a spot in Louisville.
This wouldn't be the first time Father Mercredi was represented at the World Championship as they recently traveled to Anaheim to compete against different international teams.
The competition will be held on February 18 and 19.
Meanwhile, Father Merc's FRC robotics team, which programs robots that can weigh as much as 120 lbs, will be competing in the upcoming regionals in Victoria, B.C.
Back in 2016, one of their teams won gold at regionals and received a spot at the Worlds in St. Louis.
MacIsaac adds he believes there's a good chance both the FRC and one of the VEX teams could both make the international competition.