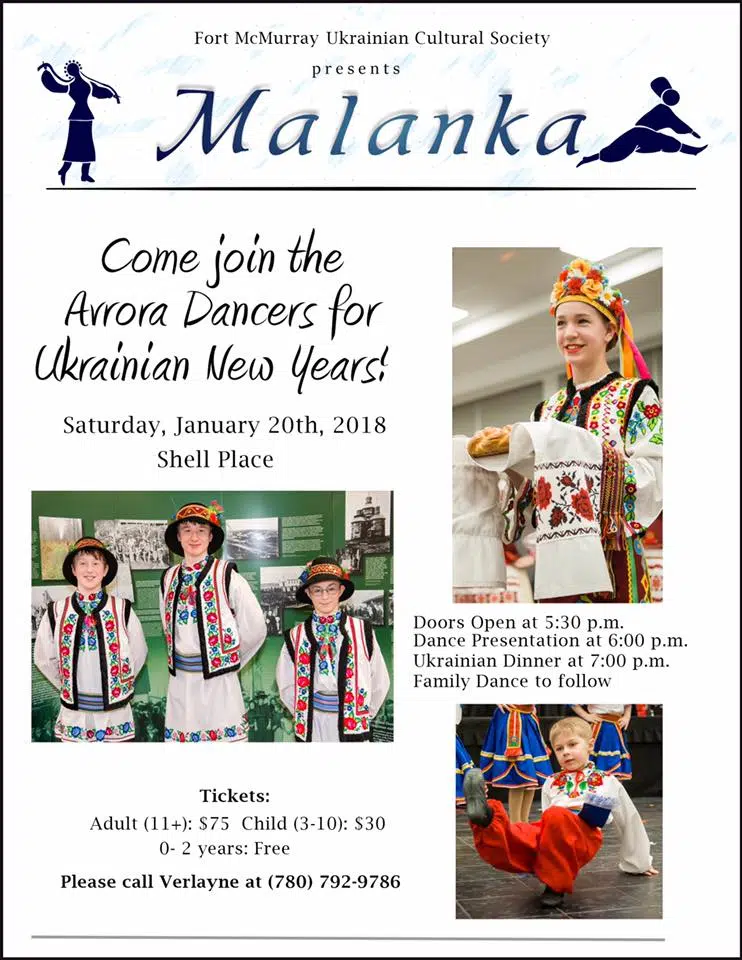 The Fort McMurray Ukranian Cultural Society is looking to ring in Malanka in traditional Ukranian fashion.
Malanka is the Ukranian New Year and features cultural dancing from Avrora Dancers as well as a big Ukranian feast.
The celebration is normally held on January 14 but because of the way the dates fall, the Ukranian Society decided to hold it this upcoming weekend.
Member of the society Isabelle Doblanko tells Mix News that avrora is a traditional way to mark special occasions.
"Because a lot of Ukranians were farmers or living off the land, a lot of traditions are based on celebrations that would surround planting of crops and the harvest, that type of thing."
Doblanko says Malanka is an opportunity most people living outside of Ukraine don't get to experience.
"It's a chance to enjoy that and of course the dancing costumes are beautiful. Our costumes are made in the Ukraine, they're hand made and sent over and the dancers are amazing to watch, they're beautiful."
The event takes place on Saturday at Shell Place, with doors open at 5:30 p.m.
Tickets for adults are $75, $30 for kids ages 3-to-10 and kids 2 and under get in for free.