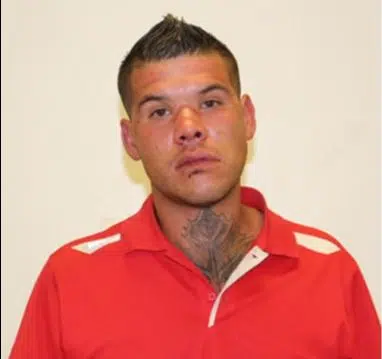 A warrant for arrest is being issued for a Fort McKay man.
Wood Buffalo RCMP are looking for 28-year-old David Junior McClure for allegedly discharging a firearm at an unoccupied vehicle in the northern community around 12:30 p.m. on December 5.
Police were called to the area but note he had already fled the scene before they arrived. McClure was seen driving away in a black pickup truck with a white tidy tank in the bed, black and silver rims, a lift kit, and a loud exhaust system.
He's described as Aboriginal, 6'0", 220 lbs, short dark brown hair, brown eyes, and a black maple leaf tattoo on his neck.
McClure is facing multiple charges including careless use of a firearm, carrying a weapon dangerous to the public, uttering threats, mischief under $5,000, and failing to comply with an undertaking.
The Mounties don't believe this was a random act and are advising the public to not approach him.
Anyone with information on his whereabouts is asked to contact RCMP or Crimestoppers.