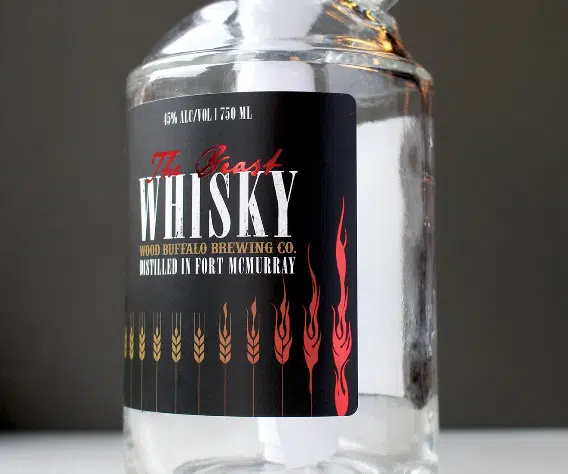 Whiskey connoisseurs broke the bank to get their hands on a one-of-a-kind bottle.
At the second annual Beast Whiskey Auction at the Wood Buffalo Brewing Company Saturday night, bottles 14-20 were auctioned off raising roughly $47, 375.
The event is put on by the Friends of the Fort McMurray Firefighters Charities Association who've partnered with the Brewery to sell the unique bottles.
Member and firefighter Scott Germain tells Mix News they surpassed their expectations, with bottle #14 selling for $10,000.
"Realistically, going into the night, we were like if we can get around $2000 per bottle we'd be pretty happy. The lowest bottle we sold for was $4000. When we got to $10, 000 we just couldn't believe it, the whole place broke into an applause, because that was just pretty incredible."
What makes the whisky one-of-a-kind is the malt for the liquor was left outside during the evacuation, absorbing the smoke from the fire.
Germain notes because there's only one barrel only 200 bottles will be made.
"It's an incredible piece of Fort McMurray history. 10-years from now someone is going to have these bottles, there's only going to be 200 bottles made in total. I'm sure they're only going to go up in value as years go by."
The whisky itself won't be ready for a few more years as it still has to ferment.
The funds raised from the auction will go towards five social profits the Charities Association supports, which includes Waypoints, Fort McMurray SPCA, Boys and Girls Club of Fort McMurray, and the Wood Buffalo Food Bank.