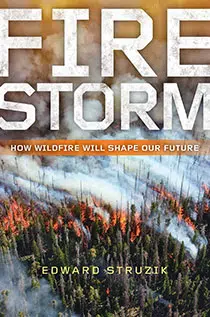 A new book suggests the Horse River Wildfire may be a warning for future fires around the globe.
Ed Struzik is the author of Firestorm: How Wildfire Will Shape Our Future – with a big part of the book focusing on last year's wildfire and how the size and scope may be more common for future blazes.
Struzik tells Mix News he doesn't believe firefighting efforts will be as effective as before.
"If you look at what happened in British Columbia and some extent southern Alberta, they just didn't have enough resources, not enough helicopters, planes, people on the ground, to be able to deal with all of those fires."
"We can't continue to just throw money at firefighting strategies, we do have to continue doing that – we have to learn to live with fire because fire is not all bad."
Struzik notes forests, such as the Boreal, need to regrow and fires are the best natural way of doing this. Because fire efforts were very strong in the past, there are very mature trees "waiting to get burned."
"I think what we have is a situation where we have so many people living, working, and playing in our forests that it's almost inevitable, given the fact we're getting drier and hotter, that we're just going to have more fires, so we need to make ourselves more resilient."
He says fires of these sizes aren't going to be a common occurrence but they will happen more often than it did 20-years ago.
"I just think it's inevitable, we're going to have bigger, hotter, fires, not every year but I think Fort McMurray is a harbinger of what's going to come down the road."
While doing research for his book, Struzik spoke to different Fire Chiefs across North America. He says many believed having better building codes is a strong start for better fire protection around communities.
"Rethink this idea that everyone needs to have a wood fence that is highly combustible, that we wisely landscape our properties so we don't have highly combustible seeders, singles on the roof, anything that can start a fire."
Struzik adds the FireSmart programs are a great concept but they need more funding to fight future fires.