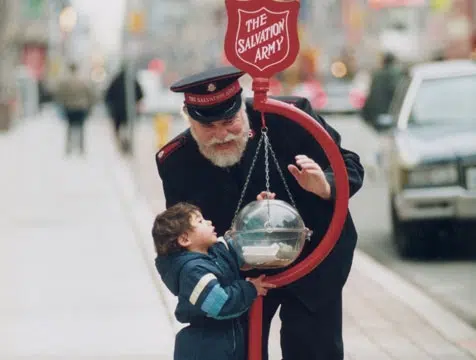 Christmas is fast approaching, which means you'll start to see the Salvation Army Christmas Kettles around town.
Their annual campaign kicks off on Saturday, at 1:00 p.m. at Peter Pond Mall.
Six other kettles will be set up at various locations around Fort McMurray.
Major Stephen Hibbs tells Mix News the funds raised will help support their programs and services throughout next year.
"That will be partial funding of all the work that we do but most of this will be utilized during the Christmas season and helping people."
This year's goal is $160,000.
One of the services receiving funds will be their MAT program.
Homeless people across Fort McMurray are offered a mat to sleep on inside a warm building, rather than sleeping outside during the cold. Hibbs notes they average around 42 to 43 people per night.
The numbers are much higher when you include all services and programs as Hibbs says roughly 500 people were helped by the Salvation Army in October.
"That's a lot of people and that's a record call out, a record request coming to us, the needs are there and certainly increasing."
On average, they help around 350 people each month.
The Kettle Campaign will run until December 23rd.
Hibbs adds they are still looking for volunteers as they need 28 people each day until the campaign comes to an end.
– Photo courtesy of Salvation Army's website