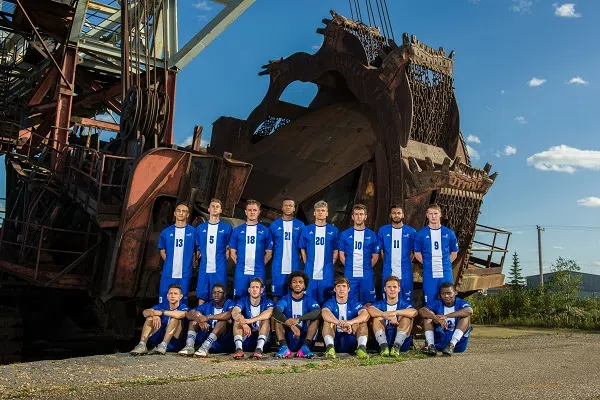 With a 9-and-1 record, the Keyano Huskies Men's Soccer team are off to the ACAC Provincial Semi-Finals.
After Friday's 2-nil win over the University of Alberta Augustana Vikings, followed by Saturday's 2-1 loss to NAIT Ooks – the team was able to clinch it's fourth consecutive division title.
The loss to Ooks was just Keyano's first on the year but Head Coach Murad Sukru feels it taught his team a lesson in humility.
In his first year as coach, he tells Mix News he feels he got the job done, despite having big shoes to fill.
"There was a lot of pressure on myself coming in," Sukru said. "I brought in ten rookies starting off. I brought a bunch of players from Ontario, fantastic players with a lot of experience. We take every game one-day at a time and as I said, lots of pressure but with hard work and good training – we pulled through."
Sukru says although the loss to NAIT was disappointing, it showed them how to not get too far ahead of themselves.
He adds the key now is making sure they don't get cocky.
"They feel great," Sukru said. "They were a little overconfident going into the NAIT game and we lost but we learned a lot from it. Now we just fill in the gaps and we move forward to the semi-finals."
Finishing first in the ACAC North gives the Huskies a bye into the semi-final game – which is set for October 28, 2017 at 12 p.m. against the winner of the quarter-final between Concordia University of Edmonton Thunder and the Lethbridge Kodiaks.
The game will take place at Emeral Hills Sports Pavillion, in Sherwood Park.
Woman Cap Off Year With Best Season In Program History
There may be no playoffs but the Keyano Huskies Women's Soccer team can take solace in their best season since entering the ACAC.
The Lady Huskies capped off their season with a 2-2 tie to the University of Alberta Augustana Vikings on Saturday – followed by a loss on Saturday to NAIT Ooks 6-nil.
With a record of 1-1-8, Murad Sukru – who doubles as the women's coach, says it's a finish they can be proud of, as the program will only grow.
He tells Mix News the team's willingness to be coached will help them become stronger and carry them into next year.
"They believed in my philosophy, they believed in the methology and they applied it. They worked very hard, trained every day, the results came very slowly but we finished off strong. Hats off to the two teams we played over the weekend and just looking forward to next season."
The lady Huskies also tied a team record for most goals for and finished second best in the program's history for fewest goals allowed.
Sukru adds that he looks forward to continue working with the team and furthering their development.
"They are an organized team, they put in a lot of hard work and I am just very pleased as a coach. They were proud of themselves and they worked really hard. So, it's nice to see that as a coach that we create results over such a short amount of time."
Sukru feels with some elbow-grease and a renewed pride in the team, the lady Huskies should be a force come next season.