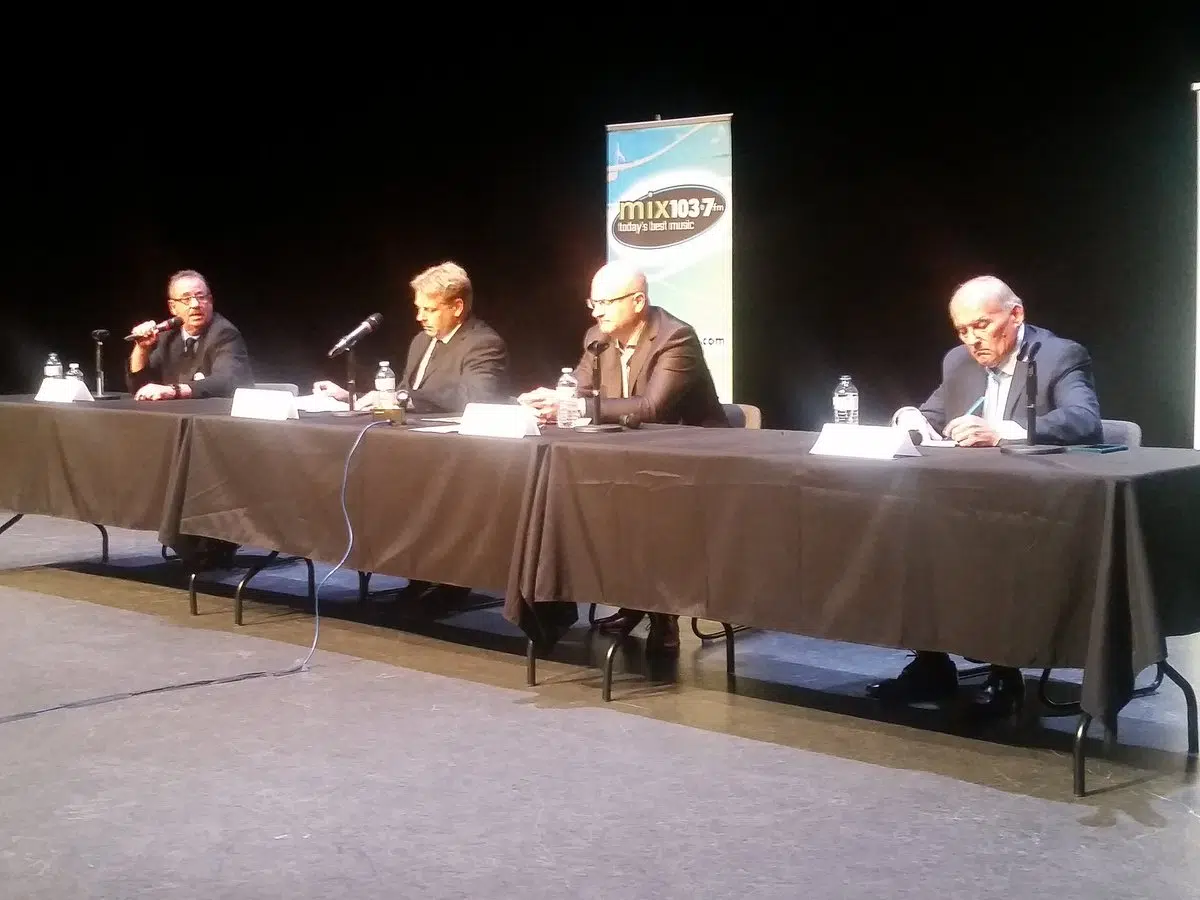 The legalization of marijuana and support for small businesses were just a couple of topics discussed at the latest mayoral debate.
On Tuesday, Allan Grandison, Tony Needham, Don Scott, and Allan Vinni took part in the final mayoral forum, which was hosted by the Fort McMurray Chamber of Commerce, Fort McMurray Today and Mix 103.7, ahead of the municipal election at the Suncor Energy Centre for the Performing Arts.
For the first time at a debate, cannabis was mentioned as the federal government plans on legalizing the recreational drug next July. Each candidate got a chance to speak on potential rules and restrictions they want to see put in place across the RMWB.
Vinni says he wants to see the same restrictions in place as alcohol and tobacco with a harder stance on dispensary location.
"We need to position stores properly where they're not going to be near schools or public events. We need to really not have it out there, it needs to be controlled – very specific controlled areas where you can buy and use marijuana."
Grandison wants to make sure these dispensaries are far away from children and the municipality focuses on keeping the youth safe.
"I also want to make sure that we look at our bylaw to make sure marijuana is not being smoked in any proximity where children can be, adults can make the decisions they want to make but we have to protect our children."
Scott's main concerns are also children's safety and location.
"We're going to need to take a look, comprehensively, about where these stores should be located, we want to make sure they're not near where young people could have access to them, there should be restrictions that would be comparable to that of cigarettes."
Needham believes marijuana should also have the same restrictions as alcohol and tobacco adding cannabis isn't an "evil drug."
"I believe the legalization of marijuana in our region is actually going to be a bonus, we've had people who use marijuana have to use hard drugs to in order to pass a test as hard drugs come out of the system quicker but if we legalize marijuana we can definitely talk with industry and see they will accept a swab test and that will make our community a lot safer and a lot less violent, and a lot more fun."
Meanwhile, each candidate also got a chance to discuss ways they would like to support small businesses.
For Grandison, local businesses need support first as he wants to put a "value on local."
"We need to start talking about the people who do live here and invest in the people who've hung in there and the small businesses who've hung in during this downturn in the economy and provide some support for them."
Though not completely against bringing in big brands, Needham believes local businesses need support and the first step is buying their product.
"They do cost a little more but we get paid a little more for being out here and if we're going to go way out of town to go and get the same products that we can get and put food on our neighbour's plate then I think we should do that," said Needham. "We should be shopping locally and we should do that in a leadership example."
As for Vinni, he sees a healthy mix between all types of businesses.
"It's our job to create opportunities for all businesses, big and small. I'm not really sure bringing in a Costco, for example, would really put any local businesses out of business, I have a feeling many people in this town are already shopping at Costco, so if it means a lot less trips down the road – I'm all for that."
The same goes for Scott who notes he wants to encourage more businesses, big or small, to call Fort McMurray their home.
"I want to see a lot more small businesses in the community and I don't want to sit around waiting for them, I want us to go out and seek those opportunities but I also want to see the big box stores coming to Fort McMurray, I think what we've had as a theory previously is we're waiting for them to show up and that's not going to work. We should have the same shops and services every other community in Alberta has."
Some of the other topics which were discussed include the Truth and Reconciliation report, the rebuild and recovery, providing childcare spaces, and encouraging more childcare providers to come to the region.
The debate, which was organized by the Chamber of Commerce, Mix 103.7, and the Fort McMurray Today, was the fourth forum the four candidates have taken part in.
The first debate, which aired on Fort McMurray Matters, candidates discussed Bill 21 and fly-in-fly-out. During the second forum  the candidates reaffirmed their position on many key issues while at the third debate focused on rural issues.
Residents go to the polls on October 16.