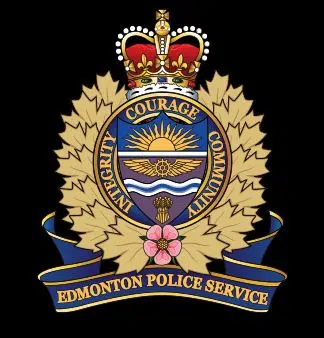 Five people, including a police officer are injured after a pair of alleged terrorist incidents in downtown Edmonton
Edmonton Police has arrested a 30-year-old male after a violent crime spree which saw an officer struck with a car and viciously stabbed.
That same spree saw four pedestrians deliberately hit later in the evening, by a different vehicle.
On Saturday, around 8:15 p.m. – an EPS officer was working traffic control duties at a game between the Eskimos and Winnipeg Blue Bombers.
The officer was standing behind a barricade, in front of his police cruiser at an intersection just southwest of Common Wealth Stadium.
That's when a male driving a Chevrolet Malibu smashed through the traffic barrier at a high speed and struck the officer – sending him 15 feet into the air before colliding with the cruiser.
At that point, the suspect jumped out of his vehicle and began to viciously stab the officer with a knife before fleeing on foot.
The officer meanwhile, was taken to hospital with various injuries.
"EPS members arrested and took a male suspect we believe to be responsible for these acts of violence earlier this morning," said EPS Chief Rod Knecht, in a statement.
Knecht asks that citizens remain vigilant contact police should they notice any unusual activity.
Investigators believe the suspect to be the same from the other incident later that evening – where four pedestrians were struck with a U-Haul truck and hospitalized.
Just before midnight, the truck was pulled over at a check stop when an officer recognized the name of the driver's license as being similar to the owner of the Malibu.
The suspect again fled the scene and was pursued by officers toward downtown Edmonton – deliberately trying to hit pedestrians in crosswalks and alleyways and striking as many as four people.
The chase ended with the U-Haul flipping over on Jasper Avenue, where the driver was apprehended.
He is currently in police custody.
Chief Knecht notes they believe the person acted alone, although the investigation is still in its early stages.
In a media release, Premier Rachel Notley says the events have left all of Alberta devastated.
"The horrific events last night in downtown Edmonton have left us shocked and angry. It's left us shocked at the indiscriminate cruelty and angry that someone might target their hatred at places where we gather with our families and friends."
She also thanked first responders and reminded people that hatred has no place in Alberta.
"Our thoughts and prayers are with the injured and their loved ones, and with everyone who witnessed last's violence. As we learn more about what happened last night, I encourage everyone to remain vigilant and to listen to law enforcement authorities."
EPS as well as RCMP's Integrated National Security Enforcement Team and the Canadian Public Security Agencies are now investigating the incidents as Acts of Terrorism under Section 83.2 of the Criminal Code of Canada.