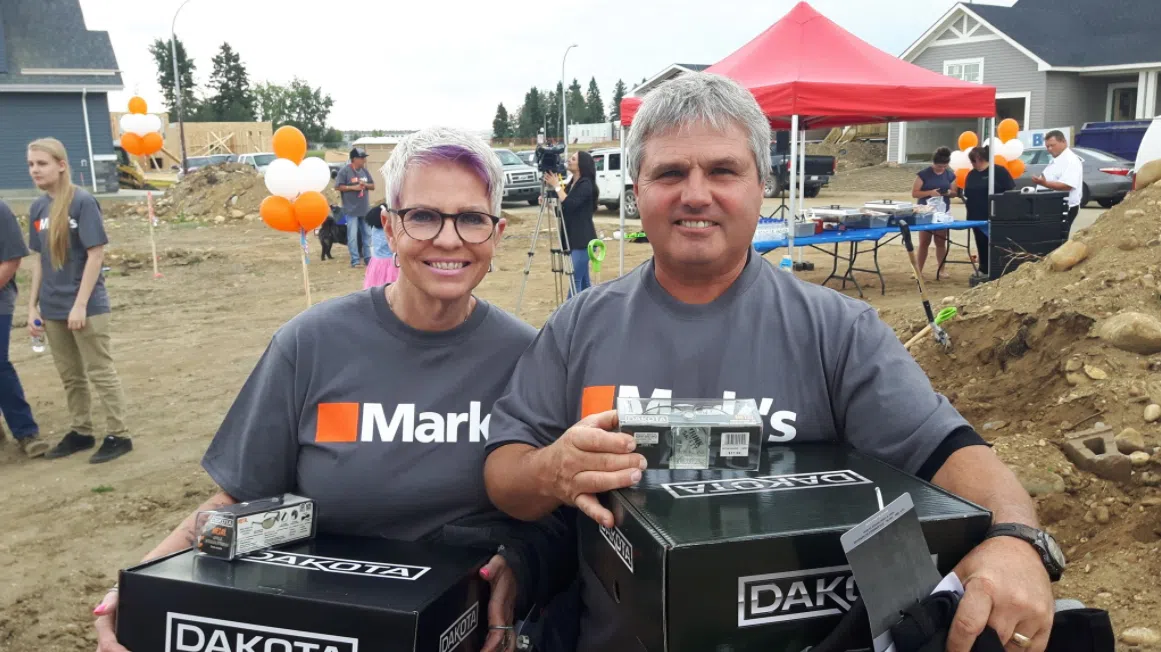 Over a year after their homes were engulfed by flames, families in Beacon Hill are finally getting to go back.
On Wednesday, families who lost their homes were on hand as Habitat for Humanity Wood Buffalo and the local Mark's Work Warehouse broke ground on their new ones.
The organizations decided to come together to help families who were uninsured or underinsured.
The big surprise is equipment and supplies to help with the build #rmwb #ymm pic.twitter.com/Pih4XOhGqA

— MIX 103.7 News (@Mix1037FMNews) August 23, 2017
Randy MacKenzie, one of the building homeowners, tells Mix News they hope to be in their new home by February.
"It's really nice to see the neighbourhood coming back together. The amount of people that have pulled together to help and get us and everyone else here back home. It's amazing."
They also had a little surprise for those awaiting the completion of their new homes in the form of safety and work gear.
Randy's Wife, Carol MacKenzie says the past year has been a long road but it has also been filled with love and positivity.
"The year has been difficult but there's been a lot of good in there as well. We're still struggling but everyday gets better and better. The generosity of the town, the people, the businesses, it's all been remarkable."
The equipment will help the families with their build. Families hoping to have their homes ready by Feb 2018 #rmwb #ymm pic.twitter.com/Tla0HJ4hd9

— MIX 103.7 News (@Mix1037FMNews) August 23, 2017
Executive Director for Habitat Wood Buffalo, Crystal Lewis-Wilton says it's a heartwarming feeling to help give these families a place to live again.
"From my conversations, they find it so humbling" Lewis-Wilton said. "That people would take the time out of their schedules and that companies would donate this kind of stuff to help them out. It's neat to see and I know they are overwhelmed by the kind of support we have here in Fort McMurray.
Carol adds that it means the world to see the community come together in this way.
"It's marvelous, people come from all sorts of different spots that you would never expect them to be here. It's just so thoughtful and so kind.
The MacKenzie's also noted their appreciation towards all the organizations that helped them get back home and all the volunteers from Habitat and Mark's Work Warehouse.