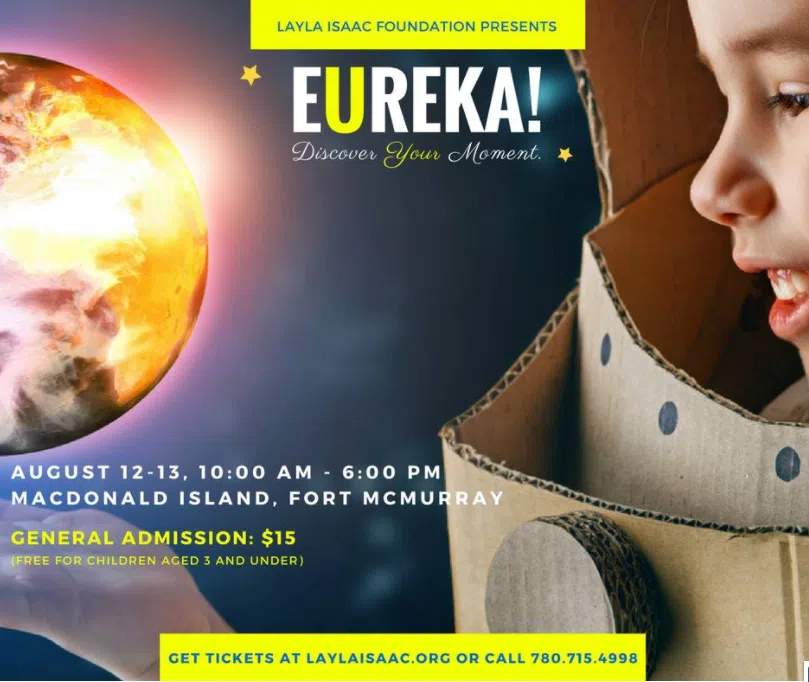 The Layla Isaac Foundation is helping youth in the RMWB get to infinity and beyond.
Eureka Space Fest is an outer space themed festival that focuses on teaching kids about the endless possibilities of what's beyond the stars.
Project Coordinator for the Layla Isaac Foundation, Juhi Shah along with her nine colleagues – helped Eureka become a reality.
She tells Mix News that the festival will cover many space-related topics.
"I feel not necessarily many kids know about space so, we're trying to bring fun and interactive experiences. So, we have virtual reality, we have short films, we have an indoor planetarium. We also have broken up our event into five mini-subtopics so, we'll cover various themes just to provide an immersive and cohesive experience for the kids."
The festival is a product of the Foundation's Summer Student Program, of which Shah is involved.
She feels there's something about space that always captivates young people.
"Space is such a massive concept that is not fully explored. There's so many opportunities to explore the unknown and I feel that's why it's so mysterious. So, that's why we went with space because there are so many unknowns to be answered and as young minds, we just want to nurture them and introduce them to all the wonders of the universe."
Eureka will also teach about Earth itself, as well as other celestial bodies to help educate kids on the infinite details of outer space.
According to Shah, Eureka is the place to be if your child has a vast interest in the interstellar.
Because there are not many chances for this kind of event from a local perspective – Shah says her team wanted to provide a fun, interactive opportunity for local kids to learn about space.
"The largest complaint is that there is nothing to do here. How many times have we heard that?" Shah asked. "Through Eureka, we're giving families a chance that they don't have to reach and drive for five hours to get this kind of experience. We can do things like that and that's what we're trying to establish."
The festival takes place at the Nexen Field House at MacDonald Island Park on August 12-13 and runs from 10 a.m. to 6 p.m.