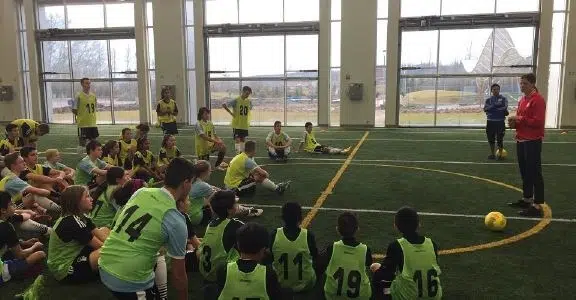 A former Canadian International Soccer player is bringing his talent to Fort McMurray.
Alex Bunbury is coming to the community for two days to teach today's youth all about the sport through a camp put on by the Fort McMurray Youth Soccer Association.
His name is throughout the Canadian soccer record books including being fourth all-time in scoring, the all-time leader in World Cup qualifying goals with 14, as well as being the first Canadian to record a hat-trick in qualifying.
Bunbury tells Mix News he's hoping to see some superstar level talent at the camp.
"You're going to have talented players – it's just a matter of them being in the right environment and having the right people mentoring them."
Bunbury is no stranger in developing young talent. His son Teal currently plays for the New England Revolution in Major League Soccer.
He says one of the most important lessons he teaches is learning to play the game without the ball.
"Soccer is a game where you play 95 per cent of the time without the ball so what you do without the ball and how you stay focus and position yourself is probably more important than your technical skills."
Bunbury notes the talent from across the Country is improving each year. With players like Christine Sinclair, Alphonso Davies, Jessie Fleming, and Cyle Larin, to name a few, the sport is on the rise in Canada.
"I think the future is bright, we have a lot of talented young players coming up."
Registration for the camp is over but Bunbury adds there is a possibility he would make another trip to Fort Mac sometime in the future.
"I think it's important that players that paved the way, like myself and others, the onus is on them to give back, share their experiences and pass it on to young players."