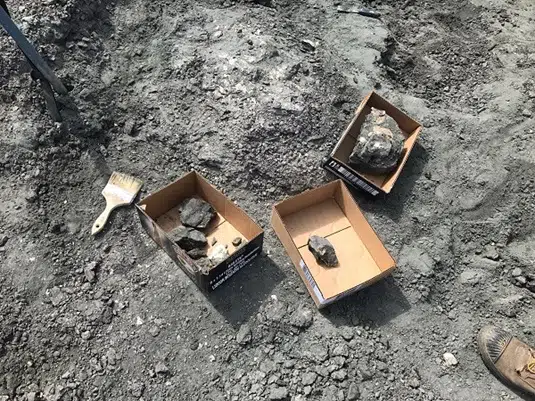 Several fossils have been found at one of Syncrude's ongoing projects north of Fort McMurray.
In early June, on-site paleontologists discovered skeletal remains at the Aurora Clean Water Return project around seven kilometres from Highway 63.
The remains are from marine reptiles, most likely, ichthyosaurs and plesiosaurs.
Syncrude's Media Relations Officer Will Gibson tells Mix News it's always intriguing to see what their equipment unearths.
"These fossils are exciting for our organization and our employees, we feel very privileged to find these types of fossils with this type of historical significance."
The paleontologists believe the fossils are from the Clearwater Formation, aging them between 100 -110 million years old.
Besides the dinosaur remains, other fossils were also found.
"Several invertebrates were found including bivalves, clams, as well as ammonites," added Gibson.
He says the fossils still need to be excavated before traveling to the Royal Tyrrell Museum in Drumheller.
The first fossil was discovered at Syncrude 25 years ago.
On April 1, 1992, Operator Willie Brebant discovered ichthyosaurs. Two years later, they found the remains of a plesiosaurs, marking one of the best finds across North America as it was the oldest and most complete fossil of that specific dinosaur.