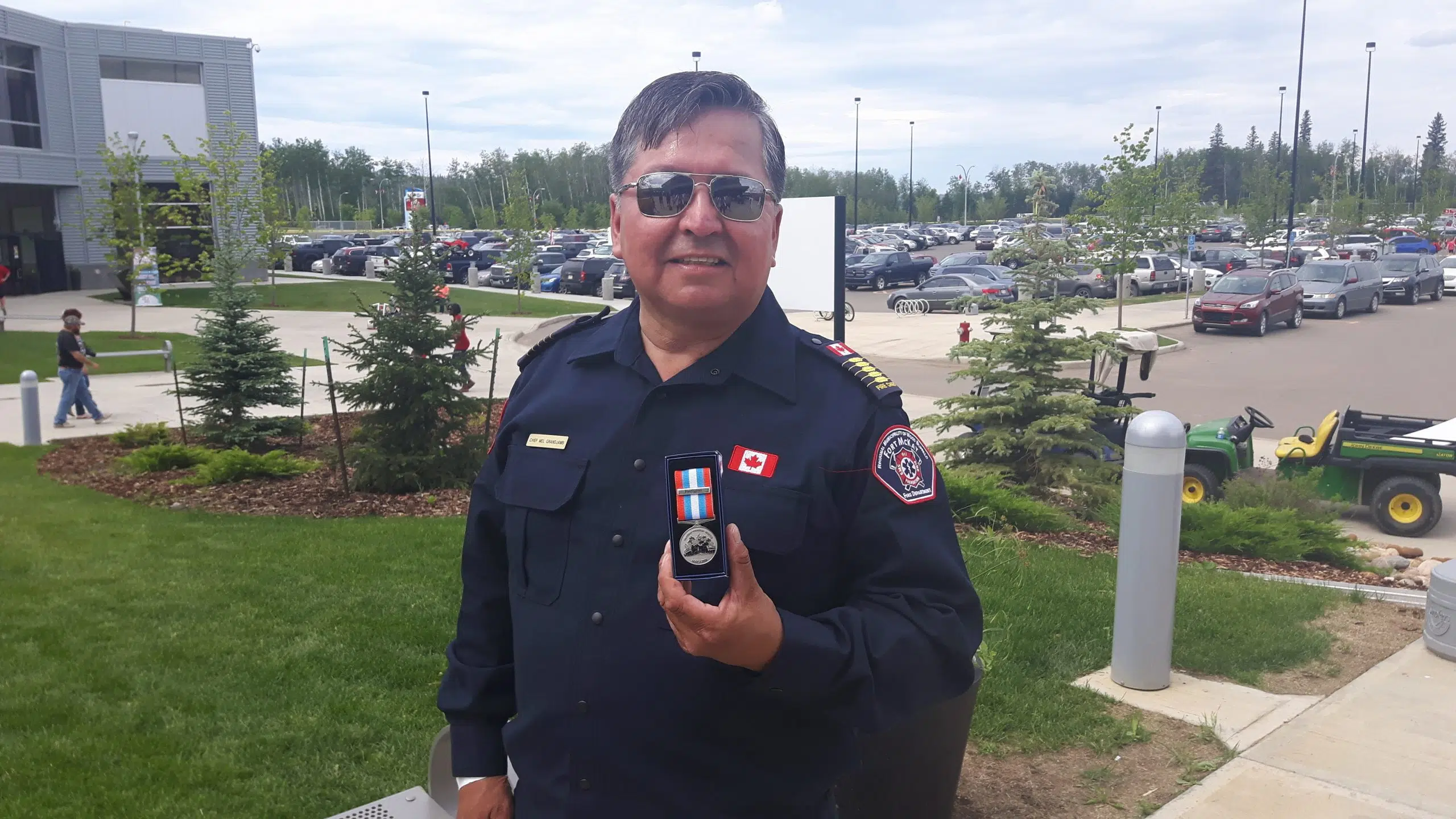 Hundreds of residents were on hand at Shell Place for the Council Commendation Wildfire Medal Ceremony.
The ceremony gave city council and residents a chance to recognize major contributors who lent a hand during the first 100 hours of the Horse River Wildfire.
Mayor Melissa Blake was the master of ceremony for the event and emphasized how it was no ordinary Canada Day for Fort McMurray.
"On behalf of Council, I want to thank everyone who came to the medal ceremony today – including audience members, program participants, volunteers and, of course, all medal recipients," Mayor Blake said.
Crowd at Shell Place applauds RCMP and First Responders as they enter Shell Place Stadium #rmwb #ymm pic.twitter.com/9daca4wyaS

— MIX 103.7 News (@Mix1037FMNews) July 1, 2017
"This Canada Day was extra special," the Mayor added. "Not only because we celebrated our country's 150th birthday, but because we came together to honour and celebrate those residents who helped protect our communities during the 2016 wildfire."
Out of 1,924 medals handed out, 707 went to Firefighters, 204 to Law Enforcement and 1013 went to members of the community for public service.
Chief of the Fort McKay Fire Department Mel Grandjamb tells Mix News that it means the world to be recognized by the community.
"It makes you feel really appreciate," Grandjamb said. "It's good to see the whole community come together and really recognize everybody who actually helped out with the "Beast". Not just the RCMP, or Bylaw but the general public all around. A lot of people pulled together that day."
The idea to honour all those community members came from Councilor Sheldon Germain – who wanted us all to take a step back and recognize all that was done to keep people safe during that first 100 hours.
Chief Grandjamb feels the ceremony shows what a tight knit community the RMWB is.
"One thing about the RMWB is that they're a big organization but they're small. When you say small – I mean it's family-based. They really look after people, look after the community. It's one big family."
Visit rmwb.ca/medal in the coming days for a full list of medal recipients or to see a video of the event, more on the council commendation and a special thank you message from city council.
Medal recipients who could not attend can pick up their medal from July 5-31 on the first floor of the Jubilee Centre.