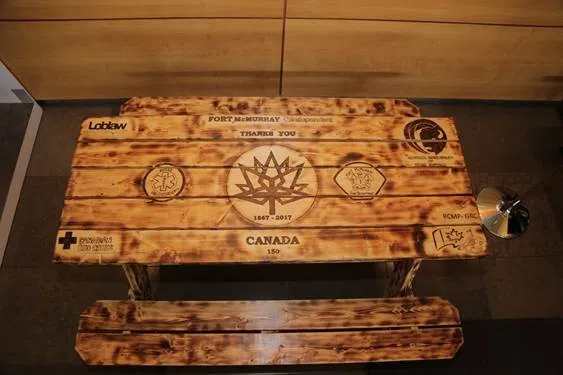 A picnic table from Fort McMurray will be at Parliament Hill for Canada's 150th birthday.
Stores across Canada took part in a competition, put on by Loblaws, where they were asked to decorate a table using paint, to celebrate the big day.
Michelle's Independent Grocer, in Timberlea, took part but, instead, decided they wanted to burn images of groups and organizations into the wood that helped them during the wildfire and evacuation.
"We wanted to do it as a thank you, the Red Cross donating to help us, of course, the fire department, RCMP, first responders, the RMWB and Loblaws," said Michelle Davies, Franchisee.
For winning the grand prize, she along with her team will be heading to Ottawa for Canada's Day. The table will meet them there as it's currently in Toronto.
"It's going to Ottawa for the long weekend then we get it back and we're going to raffle it or auction it for charity."
The table has already made its way across Fort McMurray taking part in a number of barbecues for the Wood Buffalo Food Bank, Child and Youth Advocacy Centre, as well as breakfast for Wood Buffalo RCMP.
Davies notes these events were all part of Loblaws new campaign #eattogther.
"You go home from work and you're by yourself so it's a program aimed at getting people to join with their neighbours, friends, colleagues and eat meals together."
She adds their next barbecue will be on June 29, outside their building, unfortunately without the picnic table.