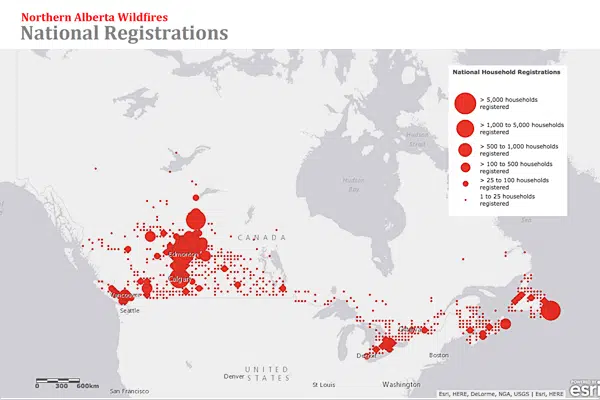 Facebook along, with Red Cross, is designing a new mapping tool to help more people during a disaster.
This new tool would calculate data from the social media site, determining where people travel to after a disaster.
"It's going to give us information that will help us make decisions when we're responding to an emergency in terms of where people are and what their needs are," said Sara Falconer, Digital Communications Director for the Canadian Red Cross.
The Red Cross has completed their own map, or prototype, looking at where people evacuating the Horse River Wildfire ending up after escaping the blaze.
Using data from Facebook, they noticed these evacuees dispersed across Canada, making it hard to ensure everyone got the help they needed.
"It's going to help with our resourcing and making decisions about how many staff and volunteers we need in certain locations. Certainly, we got processes in place in ways we do this already but it's just going to give us another layer of information."
She notes the Red Cross won't know where one individual is, they're just studying movement patterns. She adds if they see many evacuees in one location, they will send workers there to help with their recovery.
Falconer notes the mapping tool will see a test run in the near future.