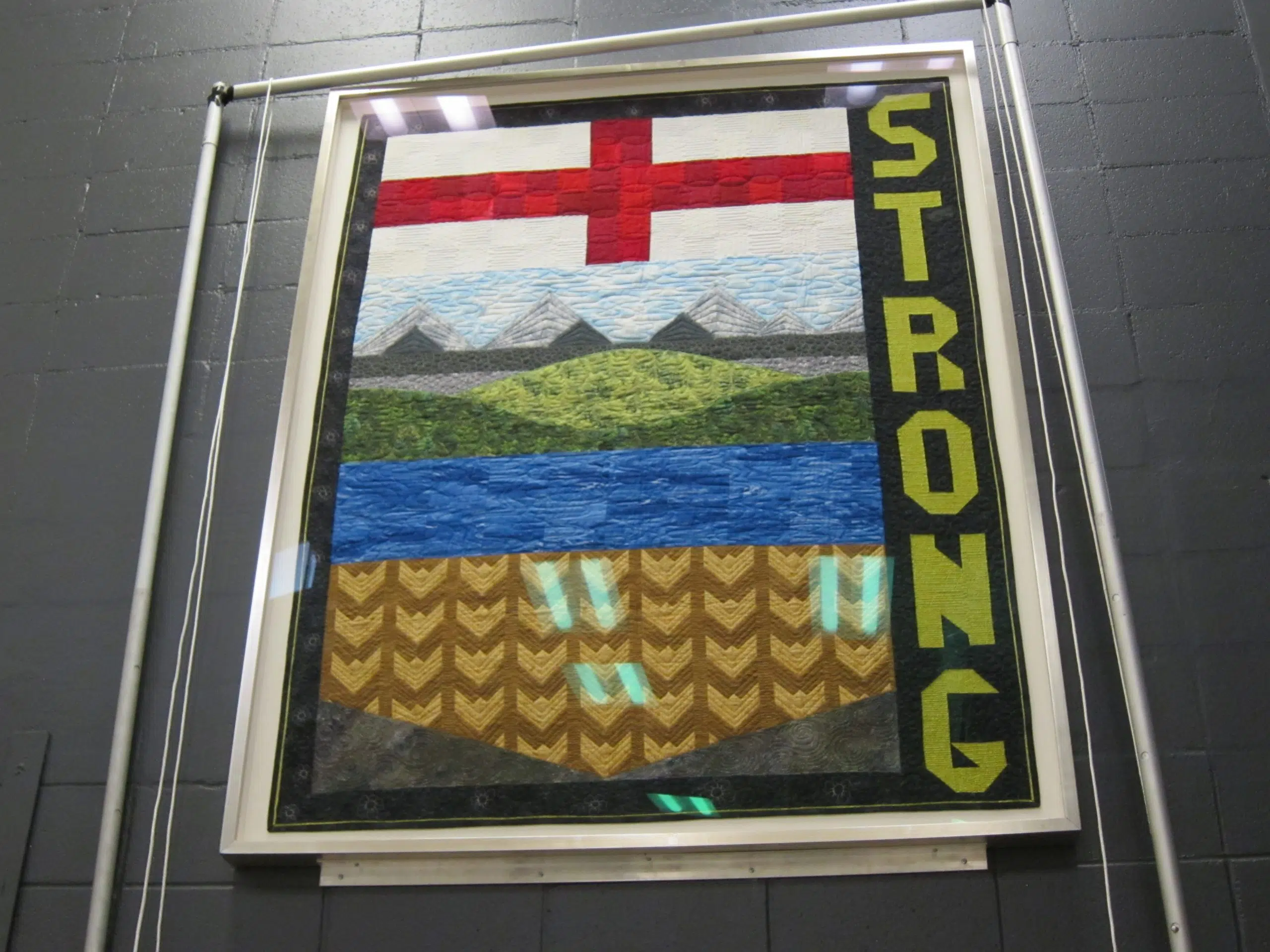 A symbol of our perseverance is now on display at MacDonald Island Park.
On Tuesday, an "Alberta Strong" quilt was unveiled by the Regional Recreation Corporation of Wood Buffalo at the Suncor Community Leisure Centre – as a sign of our community resilience following the wildfire.
The quilt was designed by Nancy Watt and donated to MacDonald Island by local quilter Nadine King – to represent the love we received this past year.
King tells Mix News the quilt will forever be a reminder of just how strong this community is.
"When I was able to find a beautiful quilt that could be gifted to the community, I thought this is going to help and hopefully people see this and remember we are strong. People gave so much to us, people are still here for us and it's a symbol of hope."
Unveiling of the 'Alberta Strong' quilt brought by Nadine King and made by Nancy Watt #rmwb #ymm pic.twitter.com/XNN9kNKXq2

— MIX 103.7 News (@Mix1037FMNews) June 20, 2017
The quilt features the insignia of Alberta's Flag with the word 'strong', stitched vertically along its right side.
King decided to donate the quilt to MacDonald Island – somewhere where all eyes can see it and where all of Fort McMurray can appreciate it.
"The sheer number of people that come through here who can see it and use it and enjoy it. Here, the community can see it. People cared about us, they gave a lot and we are strong. We are going to rebuild, we are strong and we can do it."
In addition to the quilt, a loving message from its designer Nancy Watt is also on display for people to enjoy.
RRCWB feels the quilt embodies the Alberta Strong mentality.
Communications and Media Relations officer for the RRCWB Theresa Wells tells Mix News the quilt is a symbol of the love we received from all Albertans.
"It reminds us of the kindness and generosity we received from Albertans as well as a reminder that we are Fort McMurray and Alberta Strong. The quilt is the Alberta Strong quilt and it really captures the strength that we saw in our community and in the province last May."
You can enjoy the symbolic display yourself during your next visit to MacDonald Island.