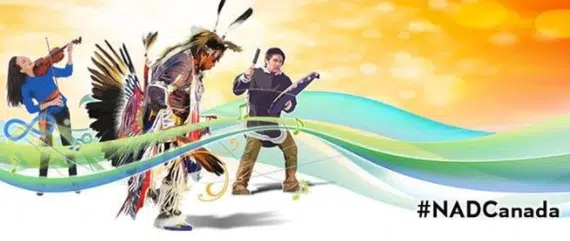 You're invited to celebrate the heritage of Indigenous peoples through National Aboriginal Day.
It's an opportunity for those of indigenous and non-indigenous roots to learn about the history of Canada's aboriginal people.
The event will feature a performance from the group Pow Wow Times, a homemade fish fry, a talking stick activity for kids and a mass blanket exercise.
Committee Chair with National Aboriginal Day Melissa Herman tells Mix News the objective is to celebrate the spirit of reconciliation.
"Well, we'd really like to celebrate aboriginal culture," Herman said. "But this year, the objective is to really focus on reconciliation and that's in light of Canada's 150th birthday coming up. We're just inviting people to come out and celebrate our culture with us."
Herman adds while the event celebrates Canada 150, it's also a chance for indigenous and non-indigenous people to help set a precedent in the RMWB.
She ays the event will also include construction of a tipi.
"We are going to have tipi erected down there and we're going to have Pow Wow Times come in and perform for us. They're a troupe of six different dancers – each of them will have a chance to explain the significance of their dance. They'll also be on sight for any questions and photo-ops."
Herman hopes to involve both indigenous and non-indigenous people.
"The way I want to go about it this year is to invite non-indigenous people to come out and celebrate our culture with us. I think with things like Treaty Days, there's that misconception that you need to be from the territory to go to things like that and there's plenty of amazing things happening."
There has not been a mass celebration of Aboriginal culture in the RMWB since 2012 due to several natural disasters.
The event is a collaboration of Nistawoyou Friendship Centre, the RMWB, ABSI Connect, Wood Buffalo Arts Council, Wood Buffalo Regional Library, and FuseSocial.
National Aboriginal Day takes place Wednesday with the celebration at Snye Point Park from 11 a.m. to 5 p.m.