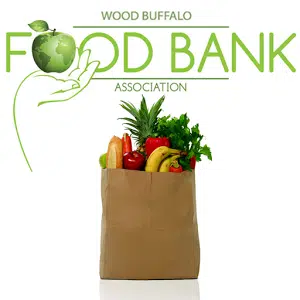 The Wood Buffalo Food Bank is working on two history project to mark two important anniversaries.
This year is the 25th annual Syncrude Food Drive, formally named the Wilson Food Drive, and 2018 marks the 35th anniversary of when the Food Bank was founded.
Executive Director Arianna Johnson tells Mix News they've hired a historian to document and capture the history of the social profit.
"We went from documenting everything on paper, in archives and things like that, to when we stepped into really documenting through the digital age there seems to be a gap of time of a few years where some information was really missed. So, we're trying to gather that and put it together so we have it throughout time."
The historian has been going through archives and interviewing people to help gather this information.
Johnson says they're also looking for anyone who's had long standing history with the Food Bank.
"Who've volunteered for us or even clients or founding members, really any involvement that you've had with the Food Bank in the last 35 years we're interested in hearing about."
If you'd like to contribute pictures you can call the Food Bank.
Johnson says details on how they'll unveil the projects will be released at a later date.