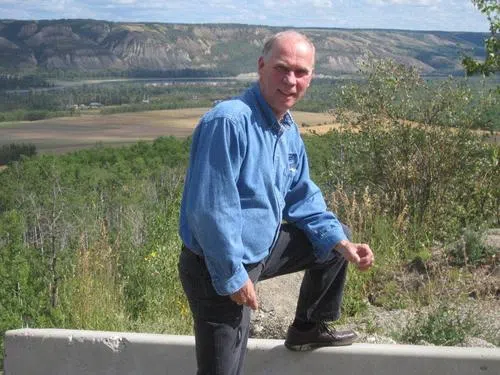 A former councilor and long-time resident has lost his battle to multiple system atrophy.
Dave Kirschner was a father of six, a businessman and an advocate for making a difference in our region.
Kirschner and his wife, Iris, spent 35 years living in Fort McMurray before his diagnosis with MSA, a neurological condition that shuts down the central nervous system, forced them to relocate to an Edmonton care facility.
In memory of Kirschner flags at all municipal buildings are being flown at half-mast until sunset on the day of the memorial service.
"I am deeply saddened to learn of the passing of long-time resident and former Ward 1 councilor Dave Kirschner," said Mayor Melissa Blake in a release. "For 35 years, Dave actively contributed to Fort McMurray life and was committed to building a better city for all residents. He was a natural leader who served tirelessly as a volunteer and coach and was the key player behind countless community events. His long list of achievements includes helping found the local food bank and the city's first homeless shelter. He was also a vocal advocate for the city's first continuing care centre. I extend heartfelt condolences to his wife, Iris, their children, grandchildren, family and friends. Dave will be missed."
Lawyer and former PC MP, Don Scott tells Mix News what he'll remember most about the late Kirschner.
"I was deeply moved when I'd heard he'd passed away," Scott said. "I expressed my condolences to the family and I hope he'll always be remembered in the way that I knew him which was a fantastic representative of this region and a passionate citizen."
Scott adds that Kirschner will be remembered as someone who loved Fort McMurray and one of the greatest advocates to come out of our community.
Councilor Keith McGrath talks about his reflections on Kirschner.
"First a father, a husband and a community leader," McGrath said. "A great guy and anytime someone passes away, you know it's always sad – you think about their family. Like most people, I'll remember Dave as a very passionate, community advocate and always respectful of other people's opinions and always thought of what was best for the community."
Many members of the community have taken to social media to express their condolences to Kirschner's family.
Saddened to learn of the loss of a great Fort McMurrayite and friend, Dave Kirschner. My prayers are with his family. #ableg #ymm

— Brian Jean (@BrianJeanWRP) May 29, 2017
He was 63 years old.