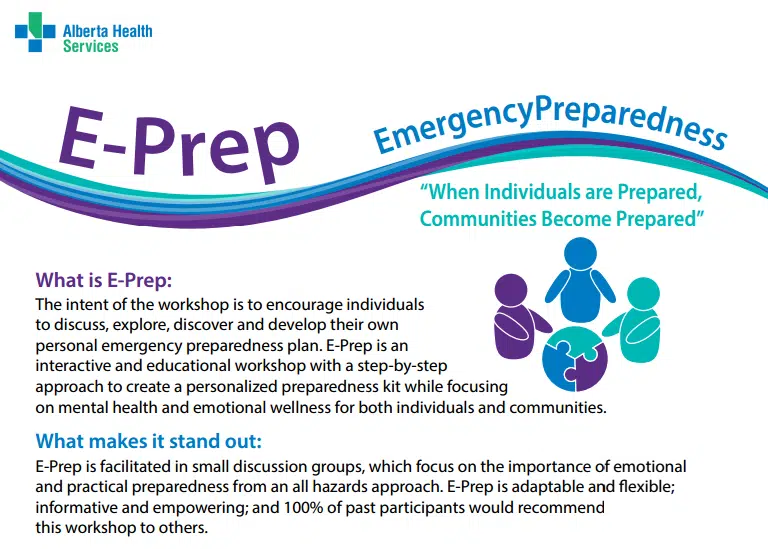 Emergency Preparedness is top of mind for Alberta Health Services.
AHS are holding a pair of E-Prep workshops designed to engage the community to discuss their levels of understanding and preparedness for disaster.
The workshops are a collaboration of AHS and carya Calgary with the idea first coming out following the 2013 floods in southern Alberta.
Health Promotions Facilitator for AHS Catherine McFee tells Mix News about short and long-term benefits of these workshops.
"When people are able to prepare physically and emotionally, it's one way of reducing that risk of long term health. People feel more in control and they're better able to carry out their plan.
E-Prep is facilitated in small discussion groups which focus on the emotional and practical preparedness from an all hazards approach.
McFee says the workshops will make doubly sure that people are properly prepared.
"Not only being physically prepared and having a family plan but also about being prepared emotionally. We offer the workshops in small groups, there's that opportunity for sharing, experiences and that social connection."
E-Prep is an interactive and educational workshop with a step-by-step approach to create a kit.
It also focuses on mental health and emotional wellness for both individuals and communities.
McFee says there are three important steps to E-Prep.
"The first step is knowing your risks, so it's about knowing your community. Step two is making a plan and then we move into making a kit. We look at shelter and place kit, and a 72-evacuation kit."
Both workshops will be held on May 31 at the Syncrude Athletic Park Clubhouse.
The first session takes place from 10 a.m.-12 p.m., while the second will be from 1-to-3.