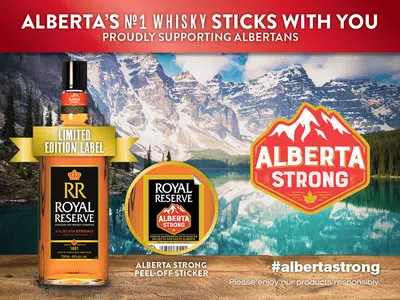 Royal Reserve Canadian Whiskey is getting 'Alberta Strong' in the rebuild efforts for Fort McMurray.
The whiskey – owned by Corby Spirit and Wine Limited has joined forces with four organizations in Fort McMurray to show them what it means to be 'Alberta Strong'.
Fort McMurray SPCA is one of the organizations who Royal Reserve will work with to provide displaced animals with lifesaving medicare.
Marketing Manager for Corby Spirit and Wine Mike Moorhouse tells Mix News they're happy to stand by Fort McMurray in this time of need.
"We really wanted to do something that was a lot more personal, that was meaningful to a province that's always been thankful and supportive of us and giving back. Not just in the time of need last year but in the ongoing because we know it's going to take quite a bit of time for Fort McMurray to get back to where it was.
Royal Reserve helped cover the cost of materials that were donated to residents to help rebuild their decks during the Fort McMurray Trade Show.
Moorhouse says he was in Fort McMurray at the Spring Trade Show – gathering feedback from the community.
"Seeing some of the people's faces and how happy they were just seeing our support – you couldn't put a price on that," Moorhouse said. "Work is work but when you see you're affecting people's lives and they're really thankful for it – that was special to me."
Wood Buffalo Canadian Mental Health Association is working with Royal Reserve to support services that raise awareness for mental health causes.
Royal Reserve has also released a limited-edition bottle, which includes a special peel-able 'Alberta Strong' Sticker.
Moorhouse talks about Royal Reserve's 'Alberta Strong' bottle.
"It's our own symbol for 'Alberta Strong', and it comes with a limited edition back sticker that has the 'Alberta Strong' logo on it – as opposed to 'A Proud Canadian' with the Maple Leaf on it. So, it's a nice addition to the Royal Reserve family and we are really excited to see people wearing it proud."
Royal Reserve will also match the donations of Alberta Strong apparel to replant trees in the community as part of Operation Re-Leaf.
Moorhouse is proud to be a part of a homegrown initiative supporting ongoing disaster relief and to be helping people from his province that have already given him so much.