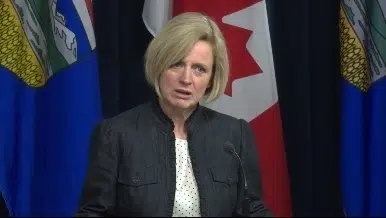 Alberta government is being given intervener status for the upcoming review of the Kinder Morgan Trans Mountain Pipeline.
This will allow the province to give oral and written submissions supporting the approval of the project.
Different municipalities, First Nations, and environmental groups brought forward the judicial review, challenging the National Energy Board's report and recommendation. They're also arguing the approval made by the Governor in Council.
"New pipelines mean a brighter future for our oil and gas industry, with jobs and opportunities for tens of thousands of working families and billions of dollars in new investment," said Premier Rachel Notley, in a release. "We believe that a strong economy and a clean environment go hand-in-hand. We'll continue to show this by fighting for Alberta's interests in court to get oil flowing to new markets and a better return for Albertans on every barrel."
The province filed for intervener status with the Federal Court of Appeal on April 13, 2017. The hearing is most likely to take place this fall.
Alberta will be presenting evidence that the pipeline will help benefit the economy, by creating jobs. They will also be providing details from their Climate Leadership Plan.