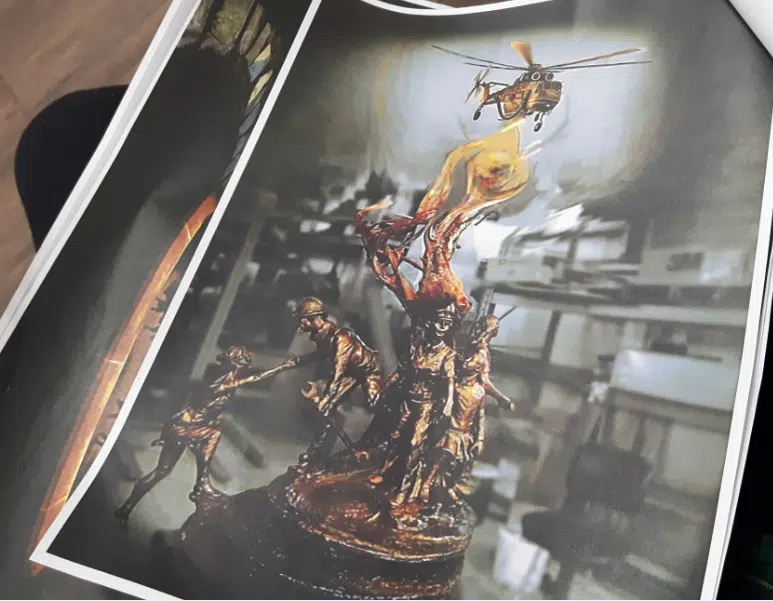 It's been a trying year for Deputy Chief of Training and Recruitment Cranley Ryan, but his family is persevering.
As Ryan was fighting the wildfire, his family was in the process of evacuation.
Unfortunately, Ryan's 15-year-old daughter Emily was killed last year when the SUV she was riding in collided with a logging truck and burst into flames just outside Lac La Biche.
Emily and her step mother's nephew Aaron, who was driving, were the only fatalities during the fire.
Ryan tells Mix News after the community was there for his family he wants to return the favour.
"I was called away from work and relieved of duty in dealing with family matters," Ryan said. "They were thinking of me and I was down there thinking of them and knowing what they were facing. That kind of support right from the beginning has been what's got us through."
At a commemoration at the Legion on Tuesday, Legion President Patrick Duggan announced the community's plans for a sculpture that will be placed in the Beacon Hill area and will be a part of the Ryan family plans to use funds to open a Memorial Park in Emily's name.
Melanie Matthews Ryan is Emily's step-mother and says it means everything to have the community's support.
"The days that we can't do it, our community carries us through it," she stated emotionally. "Everybody is feeling some type of loss and even if you lost your home we can relate with you and you can relate with us. We've lived in 26 locations for the past 11 months and we finally went home this month."
There are a few design concepts which will look to encompass emergency services and everyday citizens who gave up so much to ensure everyone's safety.
Duggan talks about why Beacon Hill is a perfect place for the memorial.
"Anybody who drives through Fort McMurray has to drive past the cliff-face and would see the park and the monument. Again, this is to commemorate the community spirit and our drive – not just during the wildfire but after the fire as well.
For Cranley Ryan, it's been an intensely emotional year for he and his family but he's grateful to come together with the community for something so symbolic.
He adds the grieving period has been tough but he's thankful for his wife and his firefighting family.
"On the days when I'm not strong, she supports me" Ryan said, nodding to his wife.
"On the days we're both not strong, the community supports us. On the days that we are strong and we send out a tweet or a message, the people read it and message back to let us know that our message is helping them."
The concepts for the sculpture, which is expected to be 14 feet in height, will go through members of the community who want to give their input.
Final announcements for the planned design is set for June 1.