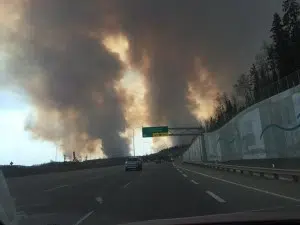 A study is being conducted on the state of firefighters who helped fight last year's wildfire.
The study by a research team at the University of Alberta – looks at the short and long term health of wildland and urban firefighters who were exposed to smoke, heat and dust in the Horse River Fire.
The study wants to know about firefighter's exposures and perceptions of how the experience during the fire affected their mental and physical wellbeing.
Professor/Lead Researcher Nicola Cherry tells Mix News 355 firefighters – which includes more than 80 from Fort McMurray, took part in phase one of the study, which concluded in September.
"Immediately after the fire, around 40% of the people said they had problems with breathing or with their lungs," Cherry said. "But as time went on – that went down so by the end, it was just about 1-in-5 people during this 3-4 month point that had problems with their lungs."
Phase one of the study was conducted over a four-month period and looked at immediate and acute symptoms firefighters faced.
Cherry clarifies that phase one was only a preliminary sample of the study.
"We're not saying that in 12 months 1-in-5 people got symptoms. We don't actually know at 12 months because the last time we saw them was four months but phase two certainly will tells us how much there is ongoing illnesses."
The second phase will study longer term effects by 2019.
Doctor Cherry adds that they need at least 3,000 participants for phase two – to have a better idea of results.
"With the 355 (studied so far), we can get the acute effects but for the longer-term effects – which we think will affect a smaller group of people, we do really need a large group of participants to be sure that what we're seeing is really due to the fire."
First Responders who want to take part in the study's questionnaire can head to fortmacfirstresponders.ualberta.ca
Meanwhile wildland firefighters can go to wildlandfirefighters.ualberta.ca.
This is one of seven studies related to the health effects of the 2016 wildfire – being funded by Alberta Innovates, Red Cross and the Alberta Institute of Health Research.