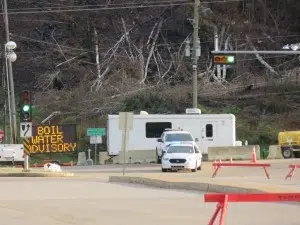 The Recovery Task Force is hoping to have Construction Management Teams ready by mid-April.
The heavily damaged communities such as Abasand, Beacon Hill and Waterways, will get a trailer put in their neighbourhoods.
These teams are being described as organizers. If supplies are coming in, the coordinator can make sure they get to each property safely and has a spot to unload. A big piece of the job will be communication as each coordinator will become very familiar with the contractors and residents in each area.
"We'll have teams set up in the areas, 12 hours a day – seven days a week as a point of contact in those communities," said Kim Jenkins, Recovery Committee Member.
Jenkins adds these teams will also be able to answer questions and deal with concerns about certain rebuilds.
"For construction guys, if they have a problem or issue to deal with but also for the residents, for safety, if there is a problem. If they see something they have a point to go to right away and say we're worried about this can you do something."
Right now, the Task Force is getting the permits for the trailers.
Until these teams are operational, the Task Force will be sending an employee to the areas to make sure all construction projects are going without