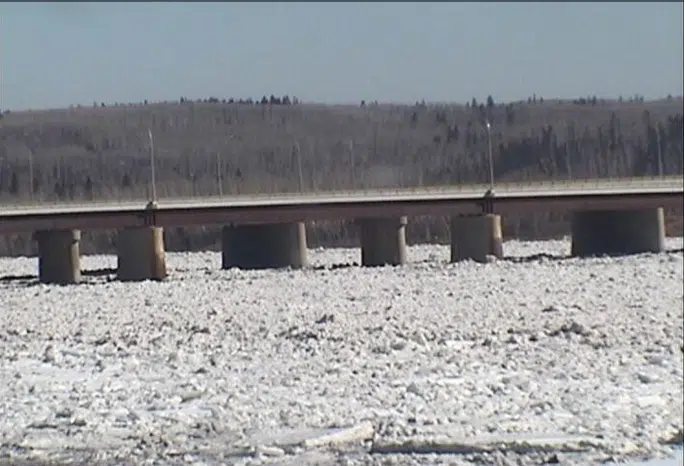 It won't be long before we start to hear the ice on the Athabasca and Clearwater Rivers start to crack and break.
To make sure we're prepared for any risk of flooding, Regional Emergency Services is kicking off its spring river breakup campaign.
The idea is to educate residents about the dangers associated with the spring thaw along the rivers.
"Now we try and time it so it's as close to river breakup season as we can get it, because the messaging is important for right now. A month from now it will be less relevant," Assistant Deputy Chief of Emergency Management Chris Graham tells Mix News.
The river breakup, on average, is declared on April 19th.
Graham says a river breakup is declared when there's no longer a threat of ice jams in the region.
"So that ice jamming is what causes the flooding. So ice flows, big chunk of ice going down the river, it could be kilometres long, all of a sudden it hits ice, can't move and causes rapid flooding behind it. So that's why we don't declare river break up until there's no longer a threat of jamming."
If you want to watch the break-up, Graham recommends watching the camera online, as it can be exceptionally dangerous if you stand on the river bank.
Graham says right now forecasters are predicting an average risk of flooding in the region this spring, but notes municipal officials, such as engineers, fire and police, have already sat down together to prepare for any type of flooding.
"Whether it's low or average or high, we make sure that the municipality is prepared to react as soon as we get any indication that the river is breaking and it's starting to flood, we react there. So we'll be constantly watching the river levels."
The municipality is also changing the way they handle evacuation notices. Graham says the first step will be issuing an evacuation alert.
"So an alert means pay attention. When someone says, I need to alert you to something, it means it's important. That's our first stage now. Then we'll get into voluntary evacuations and mandatory evacuations if the conditions are such that there's going to be risk. An alert means go and look for information as we're going to be putting it out there."
Graham notes they moved away from the alert system, but are now bringing it back after hearing from residents they want to know about the risk as soon as possible.
Meanwhile, the municipality is launching an online booklet, instead of mailing out brochures to residents in low-lying areas, advising them to create evacuation plans complete with kits and routes to get them to higher ground,
"We've changed some of the format to make it easy to read. There's information on how we would do evacuations and there's a bit of a map on Lower Townsite and some of the areas that we would look at to evacuate first. It's not an exact map, but it give you an indication."
For more information on the river breakup and emergency preparedness visit the RMWB's website.
Fort McMurray Matters - RES Preparing Residents For River Breakup Season