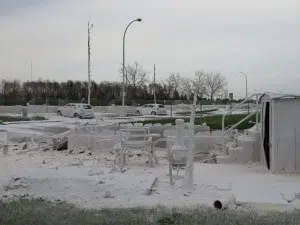 Property owners whose homes were destroyed or irreparably damaged from the wildfire are getting tax relief.
On Tuesday night, council voted in favor of waiving the 2017 property taxes for these homes only. However, the motion won't come into effect until late April, early May as the municipality must wait for the property tax bylaw to be enforced.
"I wanted to give certainty for people in this tax arrear, I didn't want someone to get a tax bill and have an emotional reaction and say why aren't you guys doing this now," said Councillor Sheldon Germain.
Germain notes this will cost the municipality $1.3 million. Council will now be looking for funding from the Provincial Government to help cover this loss of revenue.
"There are some creative ways that we can make sure that it doesn't burden other residents but this is a little help for the families that need it most," said Councillor Keith McGrath.
McGrath says other residents could be upset if the province doesn't fund the money as they could feel like the revenue should be shared amongst everyone.
There are circumstances in which these owners would have to start paying their property taxes again. This includes construction of their home, the sale of their property or the calendar year ends.
Last week, the province forgave $5.1 million in 2016 provincial education property taxes. The municipality has yet to announce how it will be dispersed but they say it will be based on the criteria outlined in a resolution passed last August.
Councillor Tyran Ault says the municipality shouldn't be celebrating the relief as the province never forgave the residential taxes.
"We put out this lovely news release on their behalf saying thank you province for forgiving only half of what we asked."
He notes the municipality has to be "aggressive or honey with vinegar" with the province to make sure more funding comes for people who are still struggling.