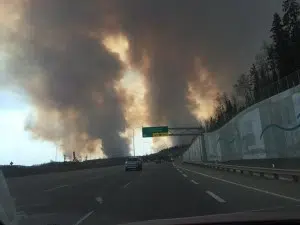 The community will be holding a dawn-to-dusk gathering for residents on May 3.
It will happen at Syne Park starting at 5 a.m. and going until 9 p.m.
Community Impact Strategist with the Recovery Task Force Nadia Power tells Mix News the municipality will not make the day a celebration but rather a day where people can be together.
"We want to create an atmosphere where people can come out, enjoy, be together with their neighbours."
Councillor Sheldon Germain echoed the same message.
"May 3 last year, we were all leaving together and now we're joining together. It's about relationships and being together."
The format for the day comes after feedback from residents, stakeholders and other communities who went through a natural disaster, such as Slave Lake and Calgary, discovering what they did to mark the day.
Power notes they understand that some would rather see a big parade and party while others would like to forget altogether. She says they felt like they had to do something.
"To do nothing would be a miss, this can be an important step in emotional healing in recovery and what we want to do is acknowledge that."
As for the rural communities, Power says they will ask each area what they would like to do if anything, and what day they would like to plan for.
"Certainly, our evacuation day was May 3 but the most impactful day or significant day during the whole event might not have been that for everybody."
Watching the sunrise will kick off the day at Snye Park. Breakfast and wellness activities will take place in the early morning, community-driven arts, recreation, leisure and spiritual activities will take place in the afternoon while a barbecue will be held in the evening.
Listen below to hear the full interview with Germain and Power.
LISTEN: Fort McMurray Matters - RMWB Discusses May 3rd Plans