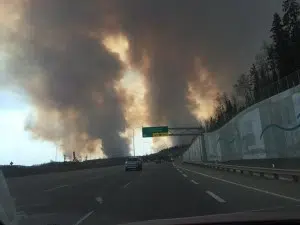 "We feel confident that we're ready for the season and the conditions going in are much different from last year."
Those words coming from Chad Morrison, Senior Manager with Wildfire Prevention in Edmonton, who says the community won't have to deal with the possibility of another wildfire of this magnitude for many years.
"Much of that hazard has been removed," noted Morrison. "The potential for a crown fire here is vastly diminished. Those trees won't come back for a number of years."
He notes, weather-wise, we're in better shape compared to last year. During the Spring, precipitation was almost non-existent with most of our rain coming in the Summer and Fall.
"There is much more moisture in the ground and the trees have much more moisture in them. If we get any sort of rain from now on until May, it will be vastly different fire conditions from what we experienced."
He notes the community had a "perfect storm of fire conditions" with the lack of rain and a dryer than normal winter.
So far, we've only had 53 per cent of our average precipitation from November to February. However, Senior Climatologist with Environment Canada Dave Phillips tells Mix News the next couple of months will see more rain.
"Even if we get a fraction of the rain we normally get in this area we'll be in much better shape," added Morrison.
As for the personal and resources, available to fight any future wildfires, there aren't any big changes from what was here last Spring. The only big change is the addition of one more crew which would be a part of the "initial attack" on any fire.
"Should there be any concerns or if there is a hazard starting to build if we see any hint of that, Fort McMurray is going to get all the resources it needs," said Morrison. "We can hire and bring up to 1,500 emergency contract firefighters if we ever had that concern."
Though the likelihood of another major wildfire happening this year is low, Morrison is still advising people to be smart when outdoors.
Grass fires are still very common but much easier to put out compared to fires at the top of trees.
Any campfires should be soaked, stirred and soaked again while making sure all off-highway vehicles are safe to use in the wooded areas.