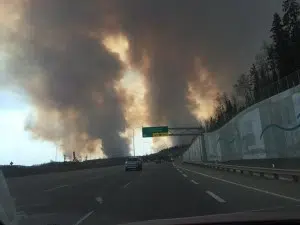 The municipality is releasing its plans to prevent and respond to wildfires.
On Wednesday, the Wood Buffalo Recovery Committee will hear from Fire Chief Jody Butz talking about the new evacuation plan and what they're expecting for this year's wildfire season.
Highlighted in the report is the number of workers ready to put out any fire before it spreads. They also mention the weather and what to expect over the next couple of months as dry conditions are a big cause of wildfires.
Senior Climatologist with Environment Canada Dave Phillips tells Mix News spring will be warmer than usual but we should expect more rain making it harder for fires to start and spread.
The committee will also hear about FireSmart projects across the region. Last week, the province nearly tripled the budget for these projects across the province, going from $4 million to $15 million.
The last topic will be tips and procedures homeowners can follow to help their property in the case of another fire.
They will meet Wednesday night at 6 p.m. in the council chambers.