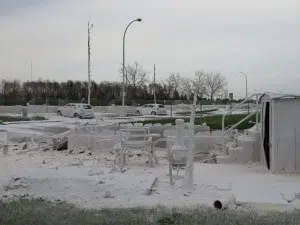 More rebuilds are expected to start in the coming weeks as the weather starts to get warmer.
According to Councillor Keith McGrath, 266 homes started before and during the winter months.
As of February, nearly 30 families were living in their new homes.
McGrath tells Mix News the community is well skilled and should have no troubles during the rebuilding season.
"This is a construction town, there's a well-skilled people that live in this community and I have no doubt that we'll hit four, five hundred homes by the end of this building season by the end of October, November."
When comparing to the recovery of Slave Lake, McGrath notes were years ahead of their schedule.
Mayor Melissa Blake says there will be challenges during the year but they should have the staff to help everyone get home.
She notes residents should have a smooth construction as long as they follow all the protocols.
"We know the frustration that people have felt with the permitting process but again if you follow all of the recommendations that are a part of the process, if you don't leave anything out, there is no reason that can't get through quickly."