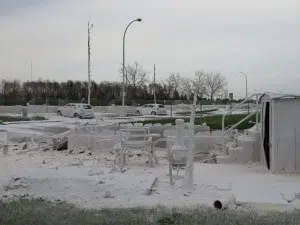 The Mayor of Slave Lake is giving Fort McMurray advice on how to continue with the recovery.
On Wednesday, Mayor Melissa Blake, Chair of the Wood Buffalo Recovery Committee Jeanette Bancarz, Fire Chief Jody Butz and other members of the Task Force and Administration met with their counterparts from the small community.
Mayor of Slave Lake Tyler Warman tells Mix News this was a chance to educate the community on what to expect down the road.
"They wanted to see some of the things that we experienced after year one, pitfalls and problems and areas of opportunities."
Slave Lake, a town of around 7,000 people, lost many homes and buildings after a wildfire crept into the community back in 2011.
Moving forward, Warman says communication was the most important part of their recovery and it needs to be a priority ahead of our rebuild season.
"You've got 2,000 impacted residents that have to rebuild and probably 1,900 who've never planned to build or be a developer and now they're taking on that task."
With the "Here for You" information sessions and other community engagements, Warman says the municipality is doing a great job communicating with the residents.
He notes our recovery is showing a lot of similarities with construction already well underway with some already back at home.
But that's where it ends, as the size of our community makes it tough to follow their steps exactly.
"We came up to share some of our experiences and some of it's helpful and some of it's not," added Warman.
While up here, talks did happen about what the municipality should do on May 3, but wouldn't go into details.