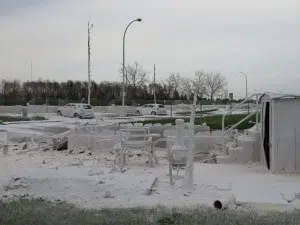 Anyone rebuilding must verify their property lines before putting up any fences.
There has been some confusion over boundary lines after the RMWB said homes can be rebuilt to pre-existing footprints. However, in some cases, fences were built on municipal land or on a neighbours.
The municipality says these situations are creating the confusion as some aren't allowed to fully rebuild to what their property looked like before the wildfire.
If this is the case, you'll have to find your own property line and build a wall there. Any fence that crosses into a neighbours yard will be asked to be taken down or relocated.
Fences don't require any permits but they do have to follow location and height restrictions.
For more information, you can head to rmwb.ca.